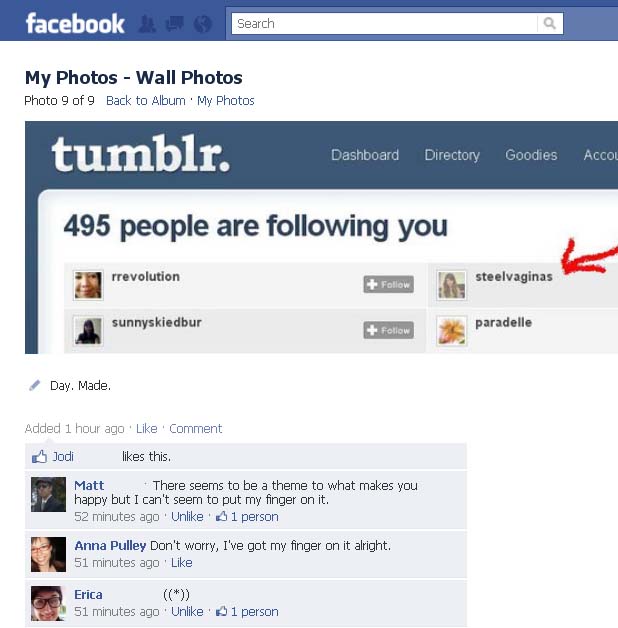 Also, new Dear @nna column out today, appropriately on how to deal with people who self-promote too much. Ah hum. Excerpt:
"The basic concept of self-promotion is that even if you're uncomfortable blowing your own horn, you must at least let people know that you have one," says Steve Balzac in this CNN article, whose references to his horn didn't make me the least bit uncomfortable.
Check it out, then share it promiscuously on Twitter, Facebook, Reddit, StumbleUpon, EbaumsWorld, Mixx, Tumblr, etc. Unless you don't want me to succeed or something.
Other awesome things on the internet that people have sent me because they "reminded me of you":
__
Do's and Don'ts of lesbian scissoring, which @Janiebt tells me is also called: "Bumping Donuts," "Rock, Paper, Vagina," "Mashing Cookies," "Churning Butter," "Grinding Beans," "Boiling Eggs," "Ginger Smacking," "Polishing Mirrors" and, my favorite, "Making Tortillas."
Officer Threatened with "Rigid Feminine Pleasure Device"
Naked people get tasered more than clothed people
Genius flamingos arrange themselves into the shape of…
This Japanese "welcome bra" for tourists is sadly NOT for sale