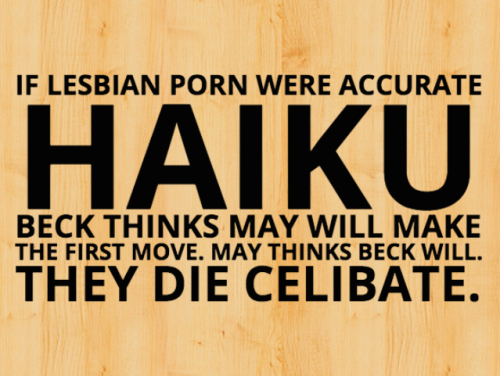 A while back, I did a haiku series for The Toast called "If Lesbian Porn Were Accurate."
Such as:
Naughty Lesbian Babysitter Has Surprise for Dad When He Returns Home
She let the kids stay
up until 11 watching
Harry Potter.
*
Hot MILFs Engage in a Steamy Clam Photo Sesh
One arranges bread
while the other gets the best
angle for Instagram.
It was a lot of fun, and I was asked to do a few more for the book, one of which is the haiku image above, which pokes fun at lesbians never making the first move.
They do, eventually, of course, but not after several agonizing hours/days/years spent parsing every possible gesture (WE SHARED A FORK. WHAT DOES IT MEAN????), and probably drinking a lot of beer first.
I'm guilty of this, too. The last girl I kissed was someone I spent the entire day with, and after minutes-long, intense eye-gazing, I looked a question at the floor and said, "I feel like we should kiss now?"
And we did! And then we had to go home because it had been an entire day already! And bitches had things to do.
Anyway.com, check out The Toast piece for more, and check out our book on Amazon, which has its own page, and sign up for the newsletter to get more awkward lesbian sex haikus.