love
now browsing by tag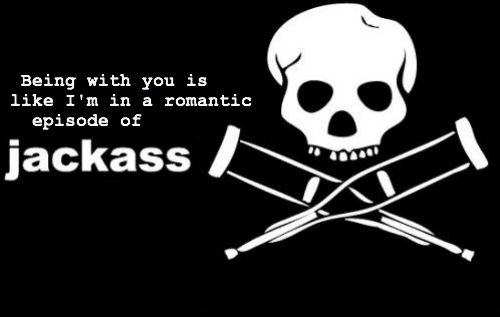 This is a guest haiku by Devon O'Dell O'Gara.
For those who've never had the uh pleasure of watching Jackass, here's a trailer for the movie.
Related: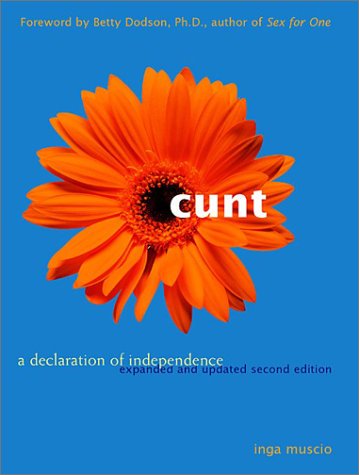 #279
Of course I read Cunt.
Painting with my menstrual blood
was transformative!
_________
#280
Girl,  I would love to
help you move that modular
couch from IKEA.
_________
#281
Cold? Here take my
micro-fleece vest. I only wear
it ironically.
_________
#282
Have you reconciled
your identity with race
and class privilege?
_________
#283
Don't label me –
I'm a non-het-identified
poly pagan witch.
_________
#284
I know it's 2012
but I'm not done griping
about The L Word.
_________
 #285
Heteronormative
intersectionality
assimilation.
_________
Related: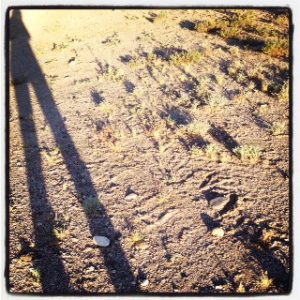 At my dad's house in Tucson, almost everything I picked up was expired. The contact solution. The Aspirin. The Frosted Mini Wheats. I consumed all of it anyway. So far, none of it has killed me. 2008. 2007. A chocolate rose from my senior prom in 2001 might be the oldest thing I've yet to throw away. Or a rose pin from godknowswhere, dusty, made from a stiff kind of velvet. I pinned it to my jacket so that I could show you later, like I should be rewarded or something.
The cancer came back. I thought that too had expired, but there it was. I didn't throw away the contact solution or the Aspirin, but I did throw away the milk, but not before using it in three cups of coffee first. I said, There's something about drinking coffee all day. I said, It's because of the Frank O'Hara poem:
oh god it's wonderful

to get out of bed

and drink too much coffee

and smoke too many cigarettes

and love you so much
And then I remembered the cigarettes.
When I left Tucson this time, he cried. It was the third time I'd ever seen him cry. And when a doughy man in khakis and a white button-down passed me in the airport, I could smell the tobacco on him and it repulsed me but still I walked too close behind him until I saw my gate and was forced to veer. Sometimes I think I'll die of lung cancer anyway because I grew up around so many smokers. Sometimes I think this is inevitable even though I've smoked five cigarettes in my life. Sometimes the smell turns me on. The chemical burn. It smells like bad decisions.
Sometimes I sneeze when I get turned on too quickly and you said that happened to your ex too, and I thought, She's one step ahead of me everywhere. I thought, I'll never sneeze again. I thought about this author I know who's into S&M, who wrote me. I thought about how he cuddled with a friend of mine recently, and how I'd rather beat him up than cuddle him, not that he asked me to do either. Instead he asked, What are you up to? And, When are you coming back? I don't know him very well, but I feel like I do because of his words, even though people say that about me sometimes and I always roll my eyes. When you write about what cores you, people think they know what cores you. Maybe they do know. Maybe I should stop rolling my eyes so much.
I found my mom's leather trench coat in the closet, which was covered with mold. I found my grandmother's bowling shirt with the three crosses and "Anna" stitched to the pocket. I found the IHOP mugs I'd stolen in high school, which was perhaps my greatest teenage "rebellion." Aside from sneaking out to the Texaco to buy Snapple and Juicy Fruit at 2am.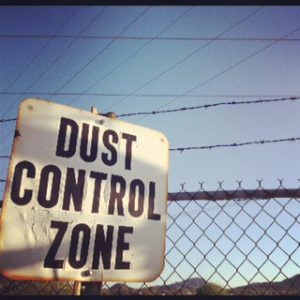 I texted you at the airport. I texted my ex and my mom and my married woman too. I didn't want you to be the one to hold my hand through this, but still I texted you. I put my hand out. Because my dad cried and then Adele came on the radio and I thought, I know what you're doing, Universe, and I'm not falling for it.
I told you there's a wig loan program at Arizona Oncology. And free qi gong on Fridays. You said, Write that down. So I did. I wrote down "Cisplatin" and "Gemcitabine" even though I didn't know how to spell them, even though I didn't want to admit how little I knew about chemo drugs. I know a little more now. I know that Cisplatin is an alkylating agent that disrupts the normal structure of cellular genetic material, DNA. I know that Gemcitabine is an antimetabolite that interferes with cell replication. I know that all of this is a verbose way of saying, We're going to kill everything.
The doctor showed us an x-ray of the tumor, which was on the left side, near his heart. I couldn't help but feel the placement was symbolic. I couldn't help but feel it on my own heart. I found a flyer for an acupuncturist in the waiting room, next to the too-much coffee and the non-dairy creamer I'm allergic to but used anyway. The acupuncturist was a lady with a white-sounding name, and I know he probably won't call her, but he took the flyer anyway because he loves me. So we just kept drinking coffee and he talked about Tucson politics and how we both wear our hearts on our sleeves and how we're (still) (always) fucked.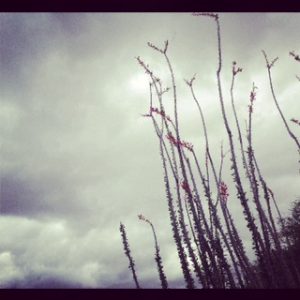 On my last day in Tucson, I took pictures of the Santa Cruz river and recited Jewel lyrics that I still remember, "…of a nation that's starving for salvation / where clothing is the closest approximation to God / and he only knows that drugs are / all we know of love heyeyeyey." I took pictures of the sky and thought, In the desert, everything can hurt you if you get too close. I thought, Soon this will be someone else's home, someone else's memory because when my dad retires, he'll have to move out of the not-ours house on University of Arizona property. I thought maybe some other girl will move in and bury coins in the dirt and make out with boys on haystacks and think it's a good idea to climb a  100-ft grain silo on a dare. And maybe she'll never find the things she buried and that'll be okay because they weren't hers to begin with anyway. Like you.
I wanted to run my fingers along the teddy bear cholla, but didn't because I'm 29 and not 9. I wanted to show you everything. I wanted you to know me, but you were in San Francisco, and maybe we can't know anything about anyone. But oh, I wanted you to know then. I wanted to tell you that the Santa Cruz is 225-miles long and that it's one of the few rivers that flows northward. Except that it doesn't flow anymore because, in Arizona, rivers are not actually rivers at all, most of the time. I wanted to tell you about the time I ate 3 Eggo waffles before track practice and threw up in the Santa Cruz. I wanted to show you the place where our trailer used to be, except, like the water in the Santa Cruz, it is also gone. They sold it to a guy in Wilcox, my dad said.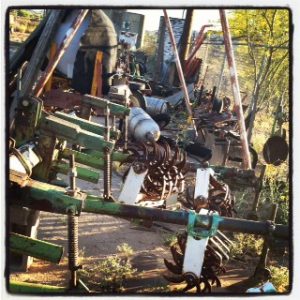 But the tree is still there, the one with the trunk painted white that we used to climb. And if you were here, I would point to the air and say, That's where our cat, Lucky, got stuck in the insulation under the single-wide. He kept meowing and we didn't know where it was coming from, but eventually we did, and my dad pulled him out. Later he was crawling on the barb wire fence near the rusted tractor parts and was gutted and my dad had to cut the fence off and I had to hold him upright with the barb wire sticking out of his belly while we drove to the vet, and I thought, I'm never calling anything Lucky ever again.
I would point to the ground and say, This is where the Diamondback rattlesnake was coiled up and sleeping one night when we came home from Peter Piper Pizza, and how terrified I was all night, but also sad the next day when my dad told me he chopped it to pieces with a hoe and sold the skin. I thought, But it wasn't doing anything. It was just there.
I would point to the middle distance and say, This is where I put my first boombox, which broke every tape I ever loved, but not for a while, and I was too dumb to stop using it. I broke Stevie Wonder. I broke Huey Lewis and the News. I broke Mariah Carey and The Beach Boys. Eventually I had nothing left, and started watching TV instead.
If you were here, I would tell you how angry I am and maybe it's powerlessness and maybe it's uncertainty and maybe I should stop searching for other words when angry will do just fine. But I can't because the tumor came back and I can't because you don't want to be with me. I would tell you these things, and it wouldn't change anything, but maybe we would know each other a little better, for a little while.
Related:
#270
My love is half bird
and half law. It's up and up
and up, then over.
_________
#271
This crush, relentless.
I am like a cat and she's
a laser pointer.
_________
#272
Your heart is a street
that has no sign, but still I
found you. I found you.
_________
#273
In therapy, I
talk to pillows about my
qualms with pillow talk.
(#Meta)
_________
#274
Give me your deserts.
Here, a girl can wade without
ruining her good shoes.
_________
#275
Reflexively, my
arm extends. An offering,
or to defend?
_________
Related:
An friend and I were g-chatting recently, and she asked why I haven't written about India. I told her I would, but the truth is, I have been writing about it, just not in a creepy Eat Pray Love way. If you've read my columns recently (those fancy images in the sidebar –>), you'll see India all over the place. But subtly, like how one line in one story can suddenly mean everything. It's like this Rilke poem, which my new friend Angela posted recently in regards to Mysore (she has an amazing Ashtanga blog that you should read as well). The last two lines read:
"for here there is no place
that does not see you. You must change your life."
You must change your life. So simple. So not.
I was thinking, too, about writing, about how writers are expected to narrate their lives, and how this sometimes interferes with the actual living part of the equation. I remember talking to S. about this. She was in the throes of some kinky sex romp one night, and suddenly found herself torn. She told herself she could concentrate on the experience, so she could write about it later, or she could decide to shut her brain off and savor what was happening while it was happening.
She chose the latter, ultimately, and I find myself making this choice more and more, as well. It sounds silly. Why should you have to choose at all? Can't you do both, live and remember? And yes, of course you can, to an extent. But when you base your life on words, you interact with situations using different parts of your brain and body. In this way, every potential experience becomes something that can be exploited. Sometimes it seems like my life doesn't exist unless I'm narrating it. This is a horrifying feeling, it's equivalent to abusing the present. Sometimes this is the best choice a writer can make. Especially if something really unorthodox is happening. But most of the time it isn't.
Ellie on spirituality vs circus tricks
I have been taking a lot of notes though. I'm almost finished with the journal I started three weeks ago. I've filled it with longing, and to-do lists, and diagrams that explain what happens to the nervous system during meditation, according to my teacher Narasimhan. (In case you're wondering, it looks like a vertical snake getting progressively fatter, while playing the accordion.)
Everyone appears to be in love here, if not with someone than with Mysore itself, the tradition, the lineage. Each day in the afternoon, a line of fire ants endlessly make their way across the fence to the cafe where I'm staying. They can't quite bridge the gap alone though, so they make a bridge out of other ants. I thought, there's a metaphor there, but it isn't important.
This week's Dear Sugar is amazing, especially this line: "…the whole shebang is stoked by lust. Which is famously unreliable as a life plan."
People ask me what I do for a living and I get to say "I'm a writer." It's been several months now, but it hasn't gotten old. Each time I say it, I feel giddy. Each time, my heart swells, and I feel a little less alone. That's one thing about India–I've been too busy to be subsumed by any one desire. It's not like that back home. Back home, I am full of wants. Back home, I fall in love 5-6 times a day.
Stephen Elliott wrote in a Daily Rumpus email recently: "You can change, you can work on yourself in all sorts of ways. You can make small changes in motion, like powdering your nose or changing the CD while driving on the highway. Or you could park for a while and sit on the trunk and really think things through, then start walking. It just depends where you need to be, and when."
I have nowhere to be here. I have only to be. I like that.
Related:
In May of 2008, I wrote in my journal that my goal for the year was to go to India with Ellie. It took me a few extra years, but here I am in Mysore. The circumstances, of course, turned out to be wildly different, but that's India too. Have no expectations and you'll be fine.
On the 23 hour plane rides from San Francisco to Hong Kong to Bangalore, I wrote a love letter to a girl that was actually a love letter to me. I won't send it because writing it was the point. Actually I did send the letter to two of my exes. I wanted them to rein me in. One of them asked why I wrote it and I said because I wanted someone to miss while I'm gone.
I should probably stop referring to them as exes and start referring to them as what they are—friends. It's weird though, when you share your life with someone and then that stops and picks up again somewhere else and the map you've been using no longer means anything so you have to draw another one. The map is still called Love but its street signs are missing. And the Dairy Queen that was on the corner is now a KFC/Taco Bell/Dunkin Donuts. It's disorienting, for a time. But it works.
I'm friends with all my exes, except for one because I can't find him. He's not on Facebook. I think of him every time I go to Tucson though. I think about calling people who used to know him and trying to get his phone number. I think about getting drinks with him at Famous Sam's even though when I knew him we both didn't drink. I never do though because he's married (to the girl he left me for) and I think we'd have nothing to say to one another. We didn't back then either. We would lay on my bed or we'd skip first period to get breakfast at Waffle House or he'd play songs on guitar. He learned to play Jewel songs for me. I'm pretty sure that's when I knew I loved him. In return, I bought Metallica's Black Album and learned to scream along. "Nothing Else Matters" was our song. I've had songs with other partners but I don't remember most of them anymore. Music has too much meaning sometimes. I have to block it out or I'll never enjoy it again.
The amazing Wendy MacNaughton made me into a cartoon. And Dear Sugar said I was one of her favorite advice columnists. I can officially die now. I probably say that too much, but it's true. I'm really lucky.
I'm so productive on airplanes. Sometimes I think if I were a rich eccentric, I would rent planes and make them into my cubicle. Sometimes when trying to impress a girl, I'll tell her I have a pilot's license. Even though I don't fly anymore and probably never will because of my bum ears. Sometimes this makes me sad, but mostly it doesn't. Anyway, I wrote my SF Weekly, After Ellen, and RedEye columns in less than three hours on the plane, which is CRAZY, and is a keen reminder to turn off the fucking Internet once in a while. Sometimes when I can't write a column, I'll write a love letter. One was chosen in this collection. Can you guess which one is mine?
I meant to write about India and this is what happened. I guess India will have to wait. We've got six weeks to get to know each other. I imagine several love letters will come from this particular affair. Until then, lokah samastah sukhino bhavantu. That's right, I went there.
Related:
#267
She flatters me. "Just
reading your words makes me come."
But not stay, I think.
_____________
#268
Only a fool would
call this looting "love." Only
I would believe you.
 _____________
#269
There's always another
story. I am almost
someone moving on.
_____________
Related:
#252
I wasn't born to
follow rivers. I mistake
clarity for ease.
______
#253
Sometimes we ate
dinner in the Super Kmart.
Each time was a "treat."
______
#254
She said, "You are the
girl I'm kind of in love with."
Kill 'em with kind ofs.
______
#255
I cried over a
Titanic preview, and took
it out on Celine.
______
#256
 Seriously
considering adding Facebook
"pokes" to my number.
______
#257
I was born to
follow rivers, to dream my way
into existence.
______
#258
You don't work this way, I've
found. Not yet anyway.
I keep dreaming still.
______
#259
You sent a postcard
from Belize . It's the one thing
from you I can touch.
______
#260
I don't often though.
I fear I'll ruin its realness
with my clinging.
______
#261
I sleep with men who
have girlfriends and gym memberships.
I dream of you.
______
#262
I sleep with women
on couches, anti-depressants.
I dream of sleep.
______
#263
You ask if I'm Yaqui.
I want to say, No, but
I'm aqui for you.
______
#264
I ask if you think
of me. You say, Always always.
My love doubles.
______
#265
You said, All I ask
is that you save me a piece
of your heart's real estate.
______
#266
I said I would, but
feared, secretly, that you'd build
an amusement park.
______
Related: