I somehow missed Janelle Monae's Grammy-nominated debut EP, Metropolis, Suite I: The Chase (perhaps because I've been too preoccupied sobbing over Glee songs), but I'm sure as hell not gonna miss her first full-length LP, The ArchAndroid, which comes out May 18th. Watch her hit single Tightrope and try to tell me you're not in love with her afterward.
What I love about Monae, aside from her hypnotic dance moves and delightful gender-bending, is her unabashed optimism. In the current musical climate, where pop stars like Lady Gaga and Beyonce have to dry hump prison wardens, hock mayonnaise and poison an entire diner to be seen as "interesting," Monae's focus is on, remarkably, the music: her galloping vocals, levitating rhythms and an unapologetic joy that reminds me of artists like James Brown.
According to her website, Monae's hope is that listeners, inspired by the album, "embrace their own superpowers and become the voice of change, the hero—or The ArchAndroid—in their own communities."
Her lyrics reflect that optimism as well. Witness:
When you get elevated,
They love it or they hate it
You dance up on them haters
Keep getting funky on the scene
Why they jumpin' round ya
They trying to take all your dreams
But you can't allow it
The ArchAndroid has quite a few cross-genre collaborations, including spoken-word artist Saul Williams, hipster band Of Montreal and "punk prophets" Deep Cotton. Also, Big Boi of OutKast plays the role of co-executive producer and, uh, lyrical poet. His bridge rap in Tightrope was the one killjoy in the song, since it sounds like total gibberish. Also, someone needs to tell him that Boi is a lesbian moniker. It's not gonna be me though. AWKward. Here's his soliloquy:
You gotta keep your balance
Or you fall into the gap
It's a challenge but I manage
Cause I'm cautious with the strap
No damage to your cameras damn I thought that
Can I passy
Why you don't want no friction
Like the back of a matchbook
That I pass as I will forward you
And your MacBook
Clothes shows will shut you down
Before we go-go backwards
Act up, and whether we high or low
We gonna get back-up
Like the dow jones and nasdaq
Sorta like a thong in an ass crack
There's nothing more uplifting than the metaphor of a thong up one's ass crack. AmIRight, ladies? In fact, pretty sure that that was Obama's runner-up campaign slogan. Hope. Change. Ass Crack.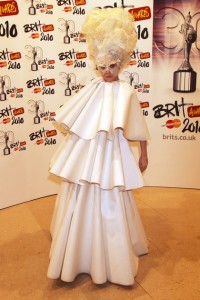 Lady Gaga
Regardless of Big Boi's tight rhymes, I remain utterly smitten by Monae. Hers will be the first whole album I've purchased since Justin Timberlake brought SexyBack. Of course I'm still going to watch Gaga dress up in a gigantic coffee filter and murder her boyfriends, but I can't help but delight in the notion of a female pop star who wears actual clothes (not to mention hot tuxedos) and espouses self-sufficiency, independence, and even more simply, a damn good time.
Related: