Last week, I wrote these limericks about being a frustrated bisexual, one of which included a story from my past where I behaved like a douche canoe. And I WAS FORGIVEN. In the comments. Check that shit out. Limericks bring people together!
In my lesbian column, I compared friendship to the run-off of a chalupa. There's actual advice in there too. I think.
At SF Weekly, I was in the print edition of the paper for this column, which necessitated a gratuitous self-photo on Facebook, of course.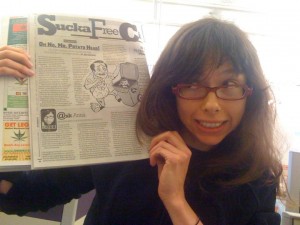 Then I wrote about how to get rid of stalkers on Facebook. And after that, I talked about how all social media interaction leads back to Kevin Bacon and got the song "Do your ears hang low" in my head for like 148 hours. CLICK AT YOUR OWN RISK.
I also reviewed this pretty shitty opera. That'll teach me to have high expectations of anything involving Jerry Springer.
At Mother Jones, I interviewed the hilarious and awesome anti-folk duo, Erin K and Tash. I may have hit on them too because that's what I do in ALL my interviews, apparently. This interview also led to a fierce MoJo debate on the correct spelling of "choad," which is perhaps my most significant contribution to journalism yet.
Also at MoJo, some of my #rockretraction tweets are in this post. You can find them by searching for "meth" and "crabs," respectively.
And I still had time to write a bunch of haiku! About loss and longing and boobs.
And despite all THAT, I also turned 28. Nobody bought me this, but it was still a pretty good birthday.
Phew.
Related: