essay
now browsing by tag

I have a new essay up on Salon. It's about my breakup with Ellie (Just when you thought I couldn't possibly write anymore on the topic!), but mostly it's about love and transition and the ways that love gets shifted around as we grow and change.
I was talking with my therapist recently about why queer women are so often friends with their exes. I said, it's because the community is so small, you can't afford a lot of enemies. It's easier to swallow your pride and move on. That's the bitter viewpoint though. The more optimistic take is that we started off as friends so it's not that surprising that we ended up there again eventually.
I wrote the essay back in September, right after Ellie's wedding, and then I didn't look at it again until recently. I needed some distance from the essay, like I needed some distance from Ellie after we broke up. But, it was San Francisco and it was expensive, so we continued to live together for longer than we should have.
Here's a snippet:
There was a moment I remember a few months after we had broken up, but were still living together. Ellie burst through the front door in tears, knelt down in front of the chair I was reading in, and took my hand in hers. "What's wrong?" I said. "What is it?" Expecting that she was hurt or something worse. Instead she told me that she had found an apartment. She cried and it was like she was confessing an affair, something truly terrible, and not that she was moving on with her life. I think about that moment a lot. We were trying so hard. She was trying to hurt me as little as possible and I was trying to pretend I was OK and neither was going to work until we let go.
Here's a funny story. Ellie and my current girlfriend both grew up in Minnesota. Over Christmas they were both there and they went out for a drink. It was synchronicity at its most pure and lovely. I wish I had been there. They sent me a picture though, so I felt like I was. That's love.
Related:
I missed Sugar/Cheryl Strayed's coming out party, due to a misfortune of geography, but thanks to Facebook, I feel like I was there. Plus, Wendy MacNaughton illustrated the evening. And my dear friends Pocket Full of Rye performed (Tucson represent!). Sugar answered my letter a few months back, and I made the mistake of reading the comments, some of which did not look upon me favorably (to their credit, I do come off as kind of an asshole). After I read the mean comments, I asked Cheryl to Sugar me a second time, which she did because she's that awesome.
"Oh honey bun, you know better!" she wrote in an email, which is a wise refrain that I consistently ignore in my own life, even though I give a lot of advice to the contrary. It's true though. I should know better. People being mean on the Internet is like the understatement of the decade. For every nice comment written, there'll be 9 trolls, or petty remonstrations, or, occasionally, Ron Paul supporters telling you you should just jump off a cliff already. It doesn't matter if you've written about the most innocuous thing on the planet. Staplers. Capri pants. The color taupe. The asshole comments will come. Usually, The Rumpus is pretty good about deleting them. They have a Thumper-from-Bambi approach to comments, as Isaac once said. But this time, they didn't. Or maybe they have since, but I'm too scared to check (still) because the letter I wrote to Sugar made me feel especially vulnerable (so much so that I'm reluctant even to post it here).
"You are such a good person," Sugar said at the end of her email, and I cried and cried. As I did so, I thought of one of her previous columns, Tiny Beautiful Things, where she wrote:
One hot afternoon during the era in which you've gotten yourself ridiculously tangled up with heroin you will be riding the bus and thinking what a worthless piece of crap you are when a little girl will get on the bus holding the strings of two purple balloons. She'll offer you one of the balloons, but you won't take it because you believe you no longer have a right to such tiny beautiful things. You're wrong. You do.
This week's AfterEllen column includes the gayest sentence I've ever written, which is something of a feat for me.
E. and I were talking about desire, and I told her I didn't think there was ever a time in my life when I didn't have a crush on someone. She said I should try to have a crush on yoga instead.
I've spent a lot of time here on the padded plank masquerading as a bed, watching the ceiling fan make its lopsided roundabouts, and looking at too many pictures on Facebook. These memories are not mine, not ours, but maybe a little now that you've shared them with me. I try to decipher if the people posing have slept together, what kind of intimacy their postures betray. I am most likely wrong. All intimacy looks like sex to me, which is why I sleep with too many of my friends, which is why some people don't trust me anymore.
I said to another friend, "There's this really amazing straight girl who lives across the country…" and she said, "Don't finish that sentence."
I should know better. Yet here I am, marveling, marveling.
During my past life healing session, I said I was an Aztec. I said I was upset that I wasn't born a boy. My healer walked me through all these doors and I told her what was on the other side of them. My "life" was pretty tame. I had a husband and a daughter. I lived to middle age. My hardships were the color purple. It was relaxing at the time, but I don't know how much of it was just me telling a story.
Why it's ok to date two people at the same time.
It's hard for me to sleep here. Partially, it's the noise, which comes at you from all sides, like you're sleeping in a treehouse in the middle of an LA freeway. I hear monkeys screeching, but I never see them. The white from the passing headlights lingers on E.'s shoulder while she sleeps, and each time I see it, I think of how back home the light from my phone would wake me whenever I got a late-night text from someone, usually D. I always told myself to turn my phone off, but sometimes it was all I had to feel connected to someone. So I kept it on, all the time. I don't have a phone here, but still I can't sleep. When I lay my head down, my body starts swimming. It wants to bathe the days past, the days ahead. I'm both terribly excited to go home and not at all. I'm afraid to start my life again. I'm afraid I can't keep the promises I've made to the soles of my feet as I try and fail to scrub the day's dirt from them. I'm afraid that I'll get home and still be me, the one who knows better, but doesn't try very hard to change the circumstances that warrant the knowing.
When I was giving advice to this man last week, I kept thinking about my own struggles with drinking. It was hard not to throw myself into that column (I still did, somewhat) because once it's written, then it's real. Or at least it feels that way. Once it's written down, it's much harder to take back. So I don't really write about drinking, except to make fun of myself. But I've been in Mysore a month now and I haven't had a drop of alcohol and I don't miss it because it's not part of the Ashtangi culture. Here we eat smoothies. We go to lunch and talk about doshas and third world enemas and everything seems radical because it's so ordinary. And I miss my friends back in San Francisco, but not really because we're still so connected. I know what they're doing, and I know when I tell them I drink too much, they'll scoff good-naturedly and say it's not true. But everything I've regretted in the morning, aside from falling for straight girls who live across the country, is due to alcohol. I think about that a lot these days.
But mostly I think about yoga. What are you thinking about?
Related:
In May of 2008, I wrote in my journal that my goal for the year was to go to India with Ellie. It took me a few extra years, but here I am in Mysore. The circumstances, of course, turned out to be wildly different, but that's India too. Have no expectations and you'll be fine.
On the 23 hour plane rides from San Francisco to Hong Kong to Bangalore, I wrote a love letter to a girl that was actually a love letter to me. I won't send it because writing it was the point. Actually I did send the letter to two of my exes. I wanted them to rein me in. One of them asked why I wrote it and I said because I wanted someone to miss while I'm gone.
I should probably stop referring to them as exes and start referring to them as what they are—friends. It's weird though, when you share your life with someone and then that stops and picks up again somewhere else and the map you've been using no longer means anything so you have to draw another one. The map is still called Love but its street signs are missing. And the Dairy Queen that was on the corner is now a KFC/Taco Bell/Dunkin Donuts. It's disorienting, for a time. But it works.
I'm friends with all my exes, except for one because I can't find him. He's not on Facebook. I think of him every time I go to Tucson though. I think about calling people who used to know him and trying to get his phone number. I think about getting drinks with him at Famous Sam's even though when I knew him we both didn't drink. I never do though because he's married (to the girl he left me for) and I think we'd have nothing to say to one another. We didn't back then either. We would lay on my bed or we'd skip first period to get breakfast at Waffle House or he'd play songs on guitar. He learned to play Jewel songs for me. I'm pretty sure that's when I knew I loved him. In return, I bought Metallica's Black Album and learned to scream along. "Nothing Else Matters" was our song. I've had songs with other partners but I don't remember most of them anymore. Music has too much meaning sometimes. I have to block it out or I'll never enjoy it again.
The amazing Wendy MacNaughton made me into a cartoon. And Dear Sugar said I was one of her favorite advice columnists. I can officially die now. I probably say that too much, but it's true. I'm really lucky.
I'm so productive on airplanes. Sometimes I think if I were a rich eccentric, I would rent planes and make them into my cubicle. Sometimes when trying to impress a girl, I'll tell her I have a pilot's license. Even though I don't fly anymore and probably never will because of my bum ears. Sometimes this makes me sad, but mostly it doesn't. Anyway, I wrote my SF Weekly, After Ellen, and RedEye columns in less than three hours on the plane, which is CRAZY, and is a keen reminder to turn off the fucking Internet once in a while. Sometimes when I can't write a column, I'll write a love letter. One was chosen in this collection. Can you guess which one is mine?
I meant to write about India and this is what happened. I guess India will have to wait. We've got six weeks to get to know each other. I imagine several love letters will come from this particular affair. Until then, lokah samastah sukhino bhavantu. That's right, I went there.
Related:
I pulled a muscle in my ribs/back from laughing too hard. This was almost three weeks ago. Then, my mom had the brilliant idea that I should ask one of my undoubtedly many druggie friends for a muscle relaxer. The first person I asked had some, of course. So I went to his house, then accidentally took 18 times the recommended dosage. The short version of that story is: I'm an idiot. I even tried to throw the pills up once I realized I'd taken enough downers to tranquilize Shamu. But I wasn't very successful.
It took more than 24 hours for the drugs to purge themselves from my amazingly sponge-like head, whose task as Wooze Receptacle was unparalleled. And it took considerable effort for my lips to open and close at my command. Turning my head became a feat on par with bench-pressing a gorilla. Meanwhile, Wham's "Last Christmas" played on repeat in my drug-addled mind. "Lash Kismas I gayou mah hawt…" It was terrible. And exhausting. And, as fate would have it, I was on deadline and expected to be funny or something. Jury's out on that.
The worst part is that not only did I dope myself to oblivion, the pills didn't even work! I was still in tremendous pain and slept horribly. My skin crawled and I kept tugging at every inch of loose skin, trying to rid myself of excess, and failing utterly.
The moral of this story is to never laugh again, probably. Or take your mom's advice.
Whoooooa: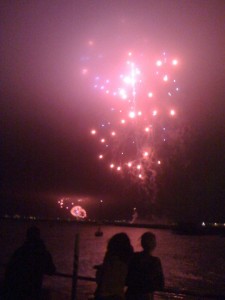 We had met before, of course, but we didn't really know each other until she fell off a three-story building. This was in London, the first time I was away from my parents, my obligations. That she survived at all is a testament to her stubbornness. She was wasted; we all were. It was the last day of classes. I was inside, trying to seduce my very first straight girl, Clara, from Catalonia. I was straight too, until I met her. Outside, Kara was dancing with a Turkish boy on a "balcony" for 12 that was holding at least 30 people. After a particularly zealous dip, they both went careening off the balcony, landing on the roof of a house below us. Someone tried to help them back up by jumping down there, but the combined weight of the three of them caused the roof to collapse, sending them all another few floors down, where they landed in someone's garage on a mattress. On either side of the mattress were garden tools: hoes, pitchforks, saw blades. The roof they fell through was laden with asbestos too. Kara was the only one hurt badly enough to require hospital attention. She was walking around though, and I'll never forget the sleepy smile she gave me before being carted off in the ambulance. It was a smile of perverse pride.
She didn't smile again for several days.
I brought her clothes the next morning, since they cut off the ones she was wearing from her body, a fact she really resented. "These pants are fucking wrap-around!" she said, and held up the fragments of what once were her Thai fisherman pants. "They couldn't just fucking unwind me?" It was probably then that I first fell in love with her, her audacity, her ballsiness, and most of all, how helpless she seemed in that hospital gown, waving her tattered pants around and yelling. She needed me then, even though she never would ask for my help. Or anybody's, for that matter.
We spent the next several days together, sitting on park benches and getting hit on by fourteen-year-olds, ordering proper English breakfasts then leaving most of it uneaten because we found them disgusting. She laughed at me when I told her I was just learning how to drink. She came back with two Strongbows and said something like, "You'll be an in-Cider in no time." We drank too much coffee, walked all over, argued in art museums about Duchamp and performativity, and talked about our Great Loves. We were nineteen. In hindsight, I think she was my first Great Love. The first to make me believe in the impossible.
We left London and went to our different cities and I wrote her songs about her pet rat, Penelope, that had died recently and that she was really upset about. After we finally kissed, in a Motel 6 outside of Prescott Valley, unleashing months of tension and longing and angst, she didn't speak to me for a month. I called and called and emailed and wrote songs about that eventually too and sang them to her answering machine. I wish I were exaggerating about that. This is one of the songs. I tried to make my desperation funny so it wouldn't seem so crippling. I doubt I succeeded.
Please oh please pick up the phone
for time is fading fast.
I'd like leave my house someday,
one call is all I ask.
I don't know why I'm waiting here.
I've better things to do,
but I think I'll have another beer
and reminisce of you.
The truth is plain to see I fear
the pieces all unglued,
I'm running out of things to drink
and time to waste on you.
Cradling my cell phone
I've lost it, can't you see?
I doubt that you're doing the same
wherever you may be.
Call me.
It's funny now, of course. That's one of time's distinct advantages. I didn't know anything about love then, or self-preservation. I just knew what I was feeling was monumental and, apparently, rhymey. She finally did call me back, to invite me hiking with her and her new boyfriend in Phoenix. I accepted. I was so happy to hear from her. We hiked and then they both came to a party with me in Tucson, where her boyfriend hit on me relentlessly and I was too stupid to think much of that. My first triangulation was with her. It wouldn't be the last either.  I just wanted her near me; the circumstances didn't matter. Until it did matter, to her, and we became strictly friends. Then I fell in love with someone who actually loved me back and moved much farther away from her than I already was. It was then, of course, that she decided she wanted me.
And like a diabetic lusting after a Snickers bar, I went to her. Not because I loved her; it was the opposite, actually. I wanted to prove to myself that I no longer did. Fucking her, then leaving her, would be vindicating, I thought. And it was for a little while.  But in the end, despite that first night many years ago in London, it was always me who ended up falling.