dating advice
now browsing by tag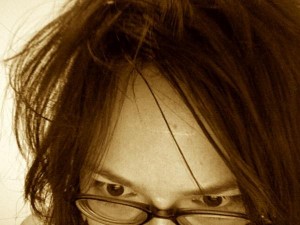 In an effort to achieve validation in as many mediums as possible, I've been reading my old advice columns and cracking myself up. (I'm so funny! I'd date me. For a month maybe.)
Here are a few of my favorites:
…Before we engage in hand-to-gland combat, I have a joke:

"You need to stop masturbating," the doctor says. The man asks, "Why?" The doctor replies, "Because I'm trying to examine you."
…Your first step should be to drop that woe-is-me shit like it's a piece of Flavor Flav's 50-pound bling. Feeling sorry for yourself never got anyone anywhere, except maybe for Gary Busey. And Paula Abdul. And Eeyore. Hmm, maybe there is something to this. Nonetheless, as someone who is the Treasurer of the Every Unavailable Woman in the World Committee, I can assure you that there are plenty of single women.
…There are, of course, natural ways to boost one's testosterone and they include the tiresome prescription of moderate exercise, protein, healthy fats and green, leafy vegetables. But who has time for such things when happiness is just a rubber-strap away?
On whether vasectomies are effective
…Calm down Scott, you're raising my sperm count. And nobody wants that, least of all my girlfriend. Vasectomies have a batting average of 99.85 percent effectiveness for birth control, meaning it's about as good as it gets, unless we count abstinence, which we won't because we are not Miley Cyrus and/or the Bush administration.
…Widows and widowers are just like anyone else – they want loving relationships, to connect with others and someone to help them carry heavy furniture from IKEA. But there's no real way to tell if someone is ready to date, whether it be after the death of a spouse or a mild case of food poisoning, until their MySpace profile says "single."
…I was watching "Pet Star" on Animal Planet (which is my main resource for cervix-related conundrums) the other day and I learned that Mario Lopez once played a space captain at Disneyland who informed guests of the adventure to come while they waited in line for Space Mountain. My point is if someone like Mario Lopez can be chosen as People's Hottest Bachelor, then you can accomplish anything, including as much deep-dicking as you like. But! First you must know these things. I've titled them based on Britney Spears songs because I want you to remember them easier and because you are clearly a masochist.

"Gimme More": The average unaroused vaginal canal is about 3 to 4 inches deep, which is not even big enough to accommodate an iPhone, so don't bother.
Also, my After Ellen column this week is out, just in time for gay Pride weekend. This one concerns how to love your jiggly bits in the bedroom and how to come out as bi girl when you've never dated a chick. Read it! And comment if you're not lazy and want to sign up for an account at After Ellen. You might have to be a lesbian though. But isn't lying what the internet was made for?
Related:
To steal an expression from The Bloggess, here's the shit I did when I wasn't here this week:
On AfterEllen, I taught a young dyke how to be a slut, the respectful way. I also answered a question about how to go from "creepy eye contact" to love. Check it here.
At Mother Jones, I called for a moratorium on the phrase "chick cars" with the requisite mockery that comes with press releases from the douchoisie. Amiright, bro?
That's all she wrote, folks. But here's something awesome from elsewhere on the internets.
Related: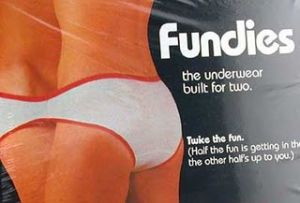 Check out my post at MoJo about a wacky press release that says mirdles, hair mascara and charm anklets are the key to picking up chicks.
Excerpt:
2. If you're a genius at talking the talk, lure her in by wearing a bright "notice-me" watch that says you are always available when someone is looking for the time. This red, white and blue watch from MyJewelryBox.com says you're patriotic, leading to more conversation!…

Who among us, barring frigid, un-American spinsters, can truly say they've never been bedded by a patriotic watch?
Check out my guest post on the ever-funny Date Wrecks website, answering a question about the differences between circumcised and uncircumcised penises.
Excerpt:
Just like their counterparts at H&M, hoodies have become wildly popular in the last few decades. According to the National Center for Health Statistics, only 65.3 percent of baby boys born in U. S. hospitals were circumcised in 1999, proving that Prince was right. We sure did party in that year….

One slight difference is that uncircumcised penises are at a higher risk for contracting some STDs like syphilis and HIV, according to the World Health Organization and the CDC. Remember how on Dawson's Creek when Dawson's dad said to him, "Remember son, no hat, no love" when he got caught making out with Joey? Then his wife chimed in, "I think you mean glove, dear" and we were all really embarrassed for him? That's how embarrassed you should feel if you don't use protection. So wrap it up, ladies and gents. This order is TO GO.
___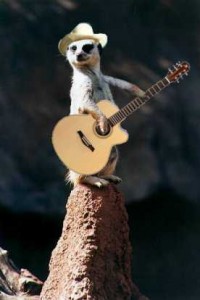 Feministing posted a new installment of their Vintage Sexism ads, with some pretty hilarious photos and dating advice, such as "don't sit in awkward positions" and "don't talk while dancing, for when a man dances, he wants to dance." Of course, the post's author also notes that dating advice really hasn't gotten less crazy over time, as evidenced by Yahoo! News' 8 First Date Tips for Single Women. Married women, be patient! Your first date tips have not yet come. I realize that Yahoo! News is not exactly a reputable source on…anything, though I've found that when I try to do dating research, Yahoo! is almost always one of the first links that pops up. So someone must be reading (and heeding?) their advice.
Here's what "love coach" Lauren Frances has to say about first dates. Peppered between Ms. Frances' advice is advice from an adorable, guitar-playing meerkat I found, somewhere on Sarah Palin's website, I think. His name is Morley, named after Jessica Alba's character in Valentine's Day, a film he was greatly inspired by.
Here's Lauren:
Don't recite a laundry list of grievances about your exes. This will only make you sound unavailable at best, or worse, wounded. Reveal your secrets when you're both on a beach in Hawaii or, better yet, engaged!
Morley: Or even better yet, don't talk at all until he puts a ring on it. Have modern women forgotten the sage advice of Ursula the Sea Witch? "They're not all that impressed with conversation! True gentlemen avoid it when they can. But they dote and swoon and fawn on a lady who's withdrawn, and she who holds her tongue will get her man!" Men obviously love mysterious women! And bacon. Maintaining a vow of silence while wearing a thong made of salted pork will make you not only alluring, but will drive him wild all night trying to figure out "where is that smell coming from?"
Romantic Rule: Confidence is sexy! Sometimes, thoughts are for the inside.
Morley: I'm pretty sure she stole that line from Barbie, right after the one that goes, "Math is tough!" Thoughts should always be on the outside during dates, preferably written in Sharpie on your face and/or cleavage. If you can figure out a way to directly broadcast your thoughts into your date's brain waves, I and MacGuyver would applaud you enthusiastically. Then we would award you a Genius Grant and a large smoothie from Jamba Juice.
Don't talk about your personal pet peeves. Although your therapist might get butterflies inside when you talk about how traumatized you are by the staggering number of germs that thrive in public restrooms, the typical male will be horrified.
Morley: Finally, we agree on something. We all know that therapists are turned on by Mysophobia, but your typical male is not a therapist, unless he is, in which case, instead of the aforementioned bacon thong, douse yourself with hand sanitizer and bleach. The resulting chemical burn will serve as a reminder that love hurts, but talking about your pet peeves really hurts.
Natural pauses are sexy, and body language can be so much more powerful than words. Slowly smile at him and breathe. You may be surprised when he blurts out in the middle of a deliciously pregnant pause, "Come here and kiss me!"
Morley: If I had a nickel every time that happened with my dental hygienist, my pauses wouldn't be the only thing pregnant! Fortunately, he can't actually kiss me when my mouth is stuffed with air-sucking hoses and dried blood. But it sure makes for a steamy cleaning, let me tell you. Hoo boy. Again, your vow of silence should take care of this problem.
In case you're reading, Yahoo! News, I'd like you to know that Morley is available for regular commentary and insight.  He doesn't believe in the Oxford comma or evolution, but he does believe in love!
Happy Valentine's Day, y'all! Today is when we celebrate our devotion to partially hydrogenated corn syrup and our hopefully still functioning livers. And love! Regardless of whether you're single or coupled or triaded (?) or bumping uglies with a fence post, I wish you all a glorious VD, with the sincere hope that you don't get any VDs.
For you singletons, I'd like to pass along this gem of a guy who wrote to my girlfriend on OkCupid. While I don't wish to disclose his actual screen name (holidays make me feel generous), it is something akin to YourPerfectSoulmate4eva. And these are his wishes, with my poignant commentary interspersed, of course:
I'd love to be in an LTR with 2 beautiful bi-women, who wanted a guy around to spoil and be spoiled by, and to help have and raise kids. However, all my bi-women friends have chosen male partner/kids OR career/female partner paradigms.
OR option 3: the not-wanting-to-be-with-you paradigm
No one I've met wants to try a triad; at least not anyone who I feel could handle that responsibility.
In other words, stop calling me, Tila Tequila!
And perhaps my triad dream is not sane; so, for the most part, I'm now prioritizing women who want to some day have kids. Anyway, any love or referrals from you or your partner are appreciated.
We're currently not accepting applications for PERFECT SOULMATE at this time, however we'll keep your resume on file for the next time our hot bisexual female friends request to procreate with strangers on the internet.
Meanwhile, lonely or not, I have work to do.
Oh, so sorry to have interrupted you!
If you're interested in giving it a try for 4 hours, I have some data entry and filing that I could pay you $10/hr to do on a Saturday. After that, if you're still interested, and I'm still interested, I would increase hourly pay to $11 or $12/hour. Boring stuff, but it needs to get done. I can provide references from other women who have worked for me (and might again – depending on scheduling it's possible you'll meet). Let me know if you want to give it a try by regular email: not2desperate@gmail.com
I'm sorry, what? Is that a proposition "disguised" as a part-time data entry job for fucking $10 an hour? I really don't know what's going on here. And while I may be unhappily unemployed at the moment, if you want my girlfriend and I to bear your children AND do your filing, it's going to set you back at least $12 an hour.
Related:
I've been wanting to write about The Bachelor for a while now, excuse me, The Bachelor: On the Wings of Love! You know, the reality TV show where one man tries to find his future wife from a batch of 25 commercially screened supermodels. Writing about The Bachelor, however, would require me to ADMIT that I watch the show and that I care enough about it to form commentary about its repetitive, achingly bad, cliche ridden, repetitive, simplistic themes. But then something crazy happened. Ali, pictured above, (who lives in my neighborhood!) was given an ultimatum: quit the show or quit her job. She picked her job, much to the chagrin of thousands of her Facebook fans, who said things like [sics all over this, btw]:
"Steel Jake back from the other women.."

"Ali u're the perfect woman for Jakeeee!!! come back please, we love u ♥"

"I HEARD @USWEEKLYMAGAZINE, that you were comin' BACK to THE BACHELOR?? hmm..is that TRUE?? THAST WOULD BE AWESOME!! PLEASE GIVE this another CHANCE!! ♥ . ..THERE ARE so MANY OTHER JOBS OUT THERE! I loved seein' yOo in SAN FRAN; & your hometown!! Jakes♥ 's yOur company!!"
So, you see, in the wake of such an incredible tragedy, how could I NOT comment on this? (What's that? Haiti who? Sorry, I don't watch The Hills).
People on the internet are shocked that Ali would choose her career over TRUE LOVE. A love so pure and deep that only 15 out of 18 couples have broken up after the show wrapped. That's an 83% failure rate. You're almost better off going to a bar, blindfolding yourself, twirling around 10 times and then marrying whoever you're pointing to at the end.
Of course, Ali's decision to leave the show makes me love her even more, and not just because she uses words like "pragmatic," although that IS part of her allure amidst the endless sea of Talking Skeletors with Boobs. I also don't believe she left because her work made her do it. With all this publicity, she could get any advertising job she wanted and she probably wouldn't even have to try very hard (unlike some people, who've been endlessly revamping cover letters and taking only the smallest of breaks to provide provocative insight on "reality" television, and then another tiny break questioning when we had to start writing reality with air quotes). But leaving the show for the mundane reason of she's just not that into you makes for boring TV. Even more boring TV than it already is.
Which is why it's not surprising that The Bachelor is full of theatrics – where girls face-plant on beds and sob promiscuously every time a camera is pointing at them, where Jake claims to have had his heart broken TWICE already on the show, and where the biggest scandal of the season involved a girl's supposed unfaithfulness. Seriously. A contestant, Rozyln, was publicly slut shamed because she "had an inappropriate relationship" with the show's producer. Poor Jake! I guess he'll have to console himself with the 24 other women vying for his pocketbook, I mean, affections. As to what the inappropriate relationship was, Rozyln, that cheap hussy, said the inappropriate behavior was simply that the producer was a good friend. That's what SHE said, Floozy McBigLove.
ABC's got your back, Jake! They don't allow cheaters on the show, unless the cheaters are men and the show is called The Bachelorette. That's right, not one, but two of the douche canoes on the show supposedly had girlfriends. And this was discussed openly by the bros on the show. Were they given a stern talking to? Did they get lectured about "family values" or integrity? Did they get booted? Of course not.
Now, I'm just a pair of boobs with a blog, (ABC's key demographic, I'm pretty sure) but that sure seems like a blatant double standard that further perpetuates ridiculous gender constructs and reiterates the virgin/whore dichotomy. Which, you know, not at all exemplify The Bachelor's core values. I'm shocked, ABC. The next thing you'll be telling me is that Vienna is not actually cross-eyed, but was digitally altered to appear so in order to infuriate people on Twitter.
Now that Ali's gone, I have no one to root for, but that doesn't mean I won't enjoy watching the remaining three try to out-cry and out-bitch one another. After all, isn't the thrill of such a show partly to bask in our own uppity satisfaction that "at least we aren't THOSE people"?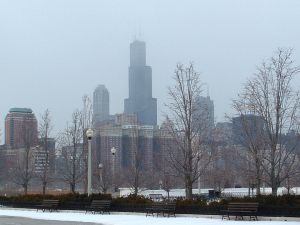 Got some link love on the Chicago Sun-Times today for my former dating column:
Things to do in Chicago when it's snowing…

# Reading. The Chicago Reader's annual fiction issue is online for your pleasure. For more inspiration, check out Jonathan Messinger's Books of 2009, or locally based sites like Bookslut and PopMatters.
# Sex. Heat things up in the bedroom with advice from our favorite sex columnist, Anna Pulley (aka Centerstage's former Carnal Consultant)
# Loafing. If you just want to sit and watch TV, that's fine, too. Visit The TV Paige for ideas…and buy tickets now for the B-Fest a full 24 hours of bad movies in Evanston. Of course, that's in a few weeks — hopefully, this storm will be over before then.
I think it's pretty fitting that I was placed between reading and loafing.
And now I will go back to doing those things.
A dating site called Beautiful People, where current members rate your attractiveness to determine whether you're allowed to join, recently purged 5,000 members for supposedly gaining weight over the holidays.
"Every year we see that some of our members from Western cultures eat and drink to excess over the holidays, and clearly their looks suffer," George Hodge, managing director, said in a statement. "The U.S.A. has been grossly over-indulging since Thanksgiving. It's no wonder that so many members have been expelled from the network. We hope they will be back after shedding the festive pounds."
Before I get into the blatant ridiculousness of this website, first let me address the improbability that people are updating their ELITIST dating profiles with unflattering pictures of themselves eating a ham hock or whatever. That just doesn't make sense, which leads me to believe the whole thing is a publicity stunt, aimed at getting people to look at and join the site.
Further evidence: I went to the site to try to view these supposedly beautiful people, but instead received this message:
The huge media coverage is currently generating so much traffic on our servers that we have had to limit some users from using the site. We are sorry for the inconvenience.
Inconvenient indeed. If that's not compelling enough, here's a great, formulaic "controversial" quote from the site's founder: "Letting fatties roam the site is a direct threat to our business model." Why, Kanye West! How your poetry has improved since the MTV Video Music Awards.
I would be rather amazed if the site had 5,000 people to purge in the first place. Since I can't know for sure, I guess I'll just let my fattie imagination roam.