I learned a very valuable lesson today. It's not all roses and free lube on Twitter, folks. Sure, sometimes you get marriage proposals, but other times you get SCORN. Other times, you will be following someone on Twitter and they'll say, "Hey, does anyone have this really expensive software that I need for my design business?" And someone else (me, the protagonist) will say, "Why surely, fellow queer blogger! I will totally help you in the nice, selfless way that strangers on the internet have come to know my philanthropic tweets." And you'll do it and you don't ask for anything in return, except "a good word to help another struggling, recently unemployed writer," which doesn't even mean anything if you think about it, but it's definitely not monetary gain or a request for hookers or anything remotely outlandish. So then this person follows you back and tweets this: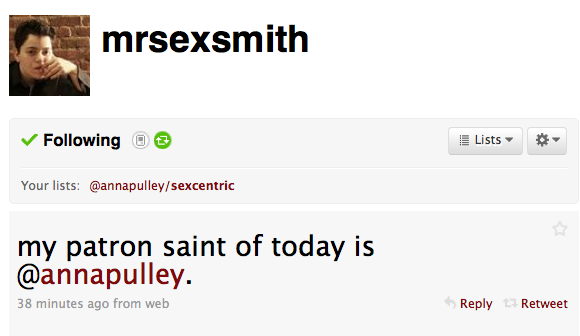 And the little piece of you that lights up inside when others validate your self-worth on the internet lights up (It's the spleen, I think) and Oh, you think, will the wonders of the internet EVER cease? No, not ever! Not in the same blessed space where you can make yourself into a Jersey Shore character and where anything involving cats rules with an iron fist!
And then you forget all about the software and the nice tweets and go about your selfless, philanthropic existence until a few months later, you see a tweet from this same someone in your past about a new hairstyle they are adopting and think, My God, I need to comment on that! So you go to their page to retweet the whole glorious 140 characters and see THIS: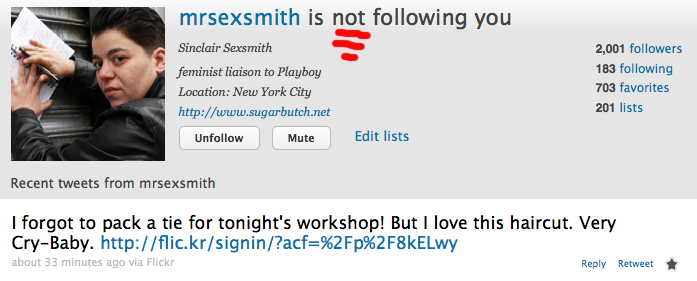 And you think, I HOPE YOUR NECK GETS CHILLED FROM YOUR FORGETFULNESS! And ponder whether the "cry-baby" part of the tweet is also mocking you, somehow. You're pretty sure it is. And that you've been SPURNED on Twitter, which leads you to believe you're annoying, until you go back and examine your tweets for the day. They include:
Which are all awesome and totally deserving of the 20 seconds that they appeared on everyone's Twitter feeds. What The Fuck, Mr. Smither of Sexery?! You can't BEAR to look at my 15 tweets a day, which is actually probably more like 3, unless you are on Twitter at the exact moments I hit the "tweet" button?
It is at this point, that you write an incensed blog post, which you will surely tweet about as well (and Facebook), all while cradling your hashtag marriage proposal (in your mind, it's not like you printed it out or anything…like that) and wondering when it all went so terribly awry. #namastebitch
Related (like you care):