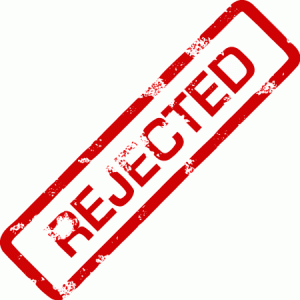 I wrote a freelance article on wedding fitness recently, which is almost more embarrassing than the fact that they (AOL) rejected it. "Contributing factors may include that it was passively written, or not well-researched." Such tips might be helpful if the sentences themselves WEREN'T WRITTEN IN A PASSIVE VOICE.
According to a handout from the University of North Carolina, a sure-fire formula for identifying the passive voice is: form of "to be" + past participle = passive voice
Breakdown:
[My article] was (form of 'to be') + passively written (past participle) = passive voice

This faux pas, of course, doesn't earn me any money, but it does lessen the blow of rejection, which occurred at the worst possible time – when my dad was direly ill in the hospital and our house unexpectedly flooded.
I'm tempted to post the wedding fitness article here, just for fun, and to see if maybe any readers could pinpoint what was wrong with it. But it's also tempting just to let it go. Thoughts? Does anyone want to read my tips on getting in shape for the Big Day?!