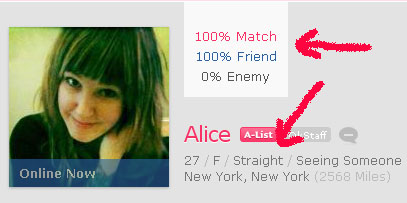 I got this message today from Alice, an OkCupid employee who I am curiously 100% compatible with (that's never happened before. Also, you'd think sexual orientation would factor into their matching algorithms.) Anyway, here's what Alice had to tell me:
Effective today, we are giving you a month of our A-List service free of charge. This is not a trick, a ruse, or bullshit.
We think you are a valuable member of our site, we think A-List is awesome, and like Reese's before us, we thought: why not bring two great things together and see what happens?
For the next month, you're free to take advantage of A-List's sweet features:
• Advanced match search options, including personality traits and attractiveness
• Unlimited message storage
• Attach photos to messages
• Create photo albums on your profile
• You can also change your username!
If this sounds good, go ahead and upgrade your account.
We aren't asking for your credit card or anything; there's really no reason not to upgrade. It is our gift to you. Let me know if you have any questions.
All the best,
Alice
How did they know to mention Reese's peanut buttercups, my favorite gas station indulgence?
Either way, it's clear that this is a stepping stone for them to start really pushing their paid services, and it comes rather quickly on the heels of Match.com buying OkCupid for a cool $50 million back in February. This is particularly amusing because not even a year ago (April 7, 2010), OkTrends, OkCupid's fantastic research and dating geekery blog, wrote a post titled, "Why You Should Never Pay For Online Dating." Of course, they took it down after the Match/OkC buyout, but several sites still link to the cached version, which you can view here no longer view anymore, apparently. But The Atlantic has a pretty good summary here.
I will not be upgrading my account for a few reasons:
1) The services don't provide any actual value. Sure, I suppose it's annoying to have to delete my messages once my inbox fills up, but it's not that annoying. And if I really, desperately needed to attach a photo, then I'd just ask for an email address. It's not like we're in some sort of post-apocalyptic war zone (yet). Other electronic avenues for communication DO exist.
2) Being an A-List member, in my opinion, doesn't help your online presence; it hinders it. Do you really want to be that douchecopter who is paying for a service that almost everyone else gets for free? It makes you seem desperate, bourgie, or simply that you are trying too hard.
3) I've never forgiven them for not putting me in their "most attractive users" list/scam. I believe this Princess Bride quote accurately sums up my feelings on the matter:  "You mocked me once! Never do it again! I died that day!"
4) Aside from the occasional LULz I get from sexually explicit message wackery, I think I probably hate OkCupid.