tucson
now browsing by tag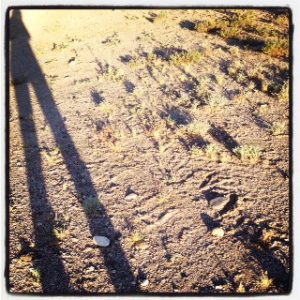 At my dad's house in Tucson, almost everything I picked up was expired. The contact solution. The Aspirin. The Frosted Mini Wheats. I consumed all of it anyway. So far, none of it has killed me. 2008. 2007. A chocolate rose from my senior prom in 2001 might be the oldest thing I've yet to throw away. Or a rose pin from godknowswhere, dusty, made from a stiff kind of velvet. I pinned it to my jacket so that I could show you later, like I should be rewarded or something.
The cancer came back. I thought that too had expired, but there it was. I didn't throw away the contact solution or the Aspirin, but I did throw away the milk, but not before using it in three cups of coffee first. I said, There's something about drinking coffee all day. I said, It's because of the Frank O'Hara poem:
oh god it's wonderful

to get out of bed

and drink too much coffee

and smoke too many cigarettes

and love you so much
And then I remembered the cigarettes.
When I left Tucson this time, he cried. It was the third time I'd ever seen him cry. And when a doughy man in khakis and a white button-down passed me in the airport, I could smell the tobacco on him and it repulsed me but still I walked too close behind him until I saw my gate and was forced to veer. Sometimes I think I'll die of lung cancer anyway because I grew up around so many smokers. Sometimes I think this is inevitable even though I've smoked five cigarettes in my life. Sometimes the smell turns me on. The chemical burn. It smells like bad decisions.
Sometimes I sneeze when I get turned on too quickly and you said that happened to your ex too, and I thought, She's one step ahead of me everywhere. I thought, I'll never sneeze again. I thought about this author I know who's into S&M, who wrote me. I thought about how he cuddled with a friend of mine recently, and how I'd rather beat him up than cuddle him, not that he asked me to do either. Instead he asked, What are you up to? And, When are you coming back? I don't know him very well, but I feel like I do because of his words, even though people say that about me sometimes and I always roll my eyes. When you write about what cores you, people think they know what cores you. Maybe they do know. Maybe I should stop rolling my eyes so much.
I found my mom's leather trench coat in the closet, which was covered with mold. I found my grandmother's bowling shirt with the three crosses and "Anna" stitched to the pocket. I found the IHOP mugs I'd stolen in high school, which was perhaps my greatest teenage "rebellion." Aside from sneaking out to the Texaco to buy Snapple and Juicy Fruit at 2am.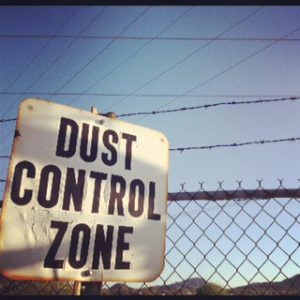 I texted you at the airport. I texted my ex and my mom and my married woman too. I didn't want you to be the one to hold my hand through this, but still I texted you. I put my hand out. Because my dad cried and then Adele came on the radio and I thought, I know what you're doing, Universe, and I'm not falling for it.
I told you there's a wig loan program at Arizona Oncology. And free qi gong on Fridays. You said, Write that down. So I did. I wrote down "Cisplatin" and "Gemcitabine" even though I didn't know how to spell them, even though I didn't want to admit how little I knew about chemo drugs. I know a little more now. I know that Cisplatin is an alkylating agent that disrupts the normal structure of cellular genetic material, DNA. I know that Gemcitabine is an antimetabolite that interferes with cell replication. I know that all of this is a verbose way of saying, We're going to kill everything.
The doctor showed us an x-ray of the tumor, which was on the left side, near his heart. I couldn't help but feel the placement was symbolic. I couldn't help but feel it on my own heart. I found a flyer for an acupuncturist in the waiting room, next to the too-much coffee and the non-dairy creamer I'm allergic to but used anyway. The acupuncturist was a lady with a white-sounding name, and I know he probably won't call her, but he took the flyer anyway because he loves me. So we just kept drinking coffee and he talked about Tucson politics and how we both wear our hearts on our sleeves and how we're (still) (always) fucked.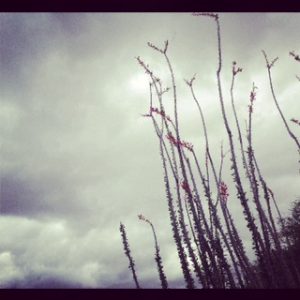 On my last day in Tucson, I took pictures of the Santa Cruz river and recited Jewel lyrics that I still remember, "…of a nation that's starving for salvation / where clothing is the closest approximation to God / and he only knows that drugs are / all we know of love heyeyeyey." I took pictures of the sky and thought, In the desert, everything can hurt you if you get too close. I thought, Soon this will be someone else's home, someone else's memory because when my dad retires, he'll have to move out of the not-ours house on University of Arizona property. I thought maybe some other girl will move in and bury coins in the dirt and make out with boys on haystacks and think it's a good idea to climb a  100-ft grain silo on a dare. And maybe she'll never find the things she buried and that'll be okay because they weren't hers to begin with anyway. Like you.
I wanted to run my fingers along the teddy bear cholla, but didn't because I'm 29 and not 9. I wanted to show you everything. I wanted you to know me, but you were in San Francisco, and maybe we can't know anything about anyone. But oh, I wanted you to know then. I wanted to tell you that the Santa Cruz is 225-miles long and that it's one of the few rivers that flows northward. Except that it doesn't flow anymore because, in Arizona, rivers are not actually rivers at all, most of the time. I wanted to tell you about the time I ate 3 Eggo waffles before track practice and threw up in the Santa Cruz. I wanted to show you the place where our trailer used to be, except, like the water in the Santa Cruz, it is also gone. They sold it to a guy in Wilcox, my dad said.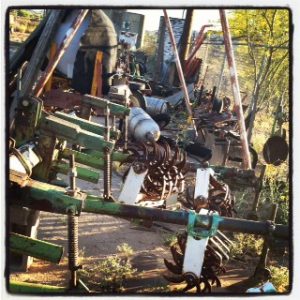 But the tree is still there, the one with the trunk painted white that we used to climb. And if you were here, I would point to the air and say, That's where our cat, Lucky, got stuck in the insulation under the single-wide. He kept meowing and we didn't know where it was coming from, but eventually we did, and my dad pulled him out. Later he was crawling on the barb wire fence near the rusted tractor parts and was gutted and my dad had to cut the fence off and I had to hold him upright with the barb wire sticking out of his belly while we drove to the vet, and I thought, I'm never calling anything Lucky ever again.
I would point to the ground and say, This is where the Diamondback rattlesnake was coiled up and sleeping one night when we came home from Peter Piper Pizza, and how terrified I was all night, but also sad the next day when my dad told me he chopped it to pieces with a hoe and sold the skin. I thought, But it wasn't doing anything. It was just there.
I would point to the middle distance and say, This is where I put my first boombox, which broke every tape I ever loved, but not for a while, and I was too dumb to stop using it. I broke Stevie Wonder. I broke Huey Lewis and the News. I broke Mariah Carey and The Beach Boys. Eventually I had nothing left, and started watching TV instead.
If you were here, I would tell you how angry I am and maybe it's powerlessness and maybe it's uncertainty and maybe I should stop searching for other words when angry will do just fine. But I can't because the tumor came back and I can't because you don't want to be with me. I would tell you these things, and it wouldn't change anything, but maybe we would know each other a little better, for a little while.
Related: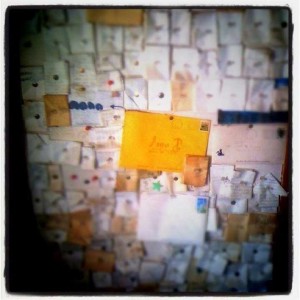 I have this wall of letters in my childhood bedroom. Some of them are written by me, but most are from other people. I started collecting them when I was in sixth grade until I finished high school. Whenever I come home, I read a few of them.  These are mostly from my freshman year boyfriend Brandon, who I dated for two months, which was a really long time in high school. I will leave the spelling and punctuation as is.
"Hey chica!!
hows the weather over there. is it cozy over there cuz it's cozy over here 2 desks away. so, got any games comin up. we should get together this weekend cuz we havent really done much together lately I had a talk with my parents and they said they dont hate u. they just think u're a little advanced for me. dont ask me y. its cuz you had a boyf or sumptin and also cuz my mom knows u go bra shopping at victorias secret. dont even ask me howshe knows that. anyways, thats the scoop on that subject…"
"Anna
Wuz up! Not much here. So you dont like my spelling well I don't like it I suck at spelling. N-E-ways How life, mines pretty <– look I spelled it right) shitty because I feel like shit. Sorry I couldnt take you to Baskin Robins Maybe some other time Steven wants to do something this weekend so I'll give you a call if your not bissy that is. Stinky Steve is all right same old stinky Steve the pot head. I think your letters are funny, at least there not dull like my letter's your probly getting bored right now and checking my spelling. So anything happen yesterday that I mist. No. Answer me damit J/K Well got to go late
Love Brandon Aka Mailman Aka Brando burger
W/B/S"
"Anna
What up Babe! Not much here. Sorry for takeing your babe but I thought that was the best word to to use. Unless I can say what up Love! that sound's pritty good to. Well N-E-Way's how's it going pritty good here. Still hyper. I dont know why. Sorry for not writing you sooner. Also this later for being so short I got to go latter's
Love Brandon Aka Mailman"
This is from my friend Alex. I sought her counsel about how to break up with Brandon. She replied:
"Helloo!
So how's your little lover boy? (J.K. Geez! You don't have to get your panties in a knot.) Well, I have this little idea.
You should get him all solo, right, and talk to him a little while and then ask him what he thinks about your relationship. He's probably going to say "What do you mean?" Now, you're totally clueless right? WRONG. You can say…Um. Well, (I'm running into a brick wall and it has your name on it.) No, I'm kidding. You can say…Well I really like you and everything but I really don't think our relationship should go any further. I made a mistake for leading you on…There everything's settled…Give him a kiss on the cheek and slowly say "See you at lunch." (Smile) and walk away.
O.K. I would like to say about Brandon. He's a QT. Are you sure you don't want to go out with him?
<3 Alex (The love doctor?)"
Lastly, I present to you, possibly my first intervention. From my best friend Lyndsey, who was trying to save me from myself. She even typed this out and everything.
"To my dearest Anna,
On this Tuesday night, I write to you from the deepest love of my heart. Although, it may not always seem this way. The hard truth about your situation is that there isn't much you can do. People see you for who they think you are and sometimes that's, well, a "snob". I'm not saying this to cut you down or discourage you, but that's the truth. That may not be who you are on the isnide, but my advice to you is to be more open aobut who you "really are" and prove to everyone that you're a great person and an even better friend. All your close friends know this and love you, but the rest of the school doesn't, and until you tell them different, that's what they'll always think of you. Like I said before, word gets around, and whtether or not you know a person that person might know you. A lot of people, including myself and you sometimes too, go by what you hear. We both of had our share of rumors and falsities so can you blame them personally? I don't think you can and that's why I don't when people look at me a certain way or snicker as I walk by. If I don't know them then they're not worth knowing. Prove everybody wrong Anna, prove all them bitches that you are awesome and that they should be running to your side. How you do this, it is not my decision or place to say. You are who you are and I am not the same in my personal ways of gaining friends.
I, unlike you, are loud, open and very talkative to anyone who's willing to listen. You are not like that and whether that's good or bad that's just the way it is. I definitely don't think it's a bad thing, just different.
That short story idea is a good one, but I don't recommend any drastic measures, such as making a packet and giving one to everyone at school. There is such a thing as trying too hard and people will recognize that, and you will come off as desperate, which you're not. The other thing is that may come off as nervy, and I don't say that to be mean, but that's what I'd think if some stranger did that to me. The newspaper on the other hand would be more subtle and more recognizable as talent, not desperation. As you know, I am far from being a psychic and I could be wrong, but everything that I have said has come from the view of the rest of our school, not your best friend, which I hope I still am after this letter! Well, I've told you everything I can to comfort and help you, and if you don't like it, that's my opinion, so don't take it too hard.
Love you Lots!!!!!
Love Always,
Paradice"
The title is a quote by Ed Abbey, one of Tucson's nefarious celebrities. He was an author, both loved and hated by many, and his quote on fidelity fits right in with my recent musings on place.
Three friends of mine recently went back to Tucson, to, as Lauren wrote, "stay in the Hotel Congress like tourists, hike all day, eat cheap Mexican food, and suck up the sun like lizards." Each of them wrote an elegy to the city, to their past and future loves, to worn ideologies and to, of course, dirt. They are all immensely talented, and these are my favorite excerpts.
Erica, Describing the colors and smells of our homeland:
i won't dwell on the city's quirks, and those of us who feel a pang of nostalgia for its ubiquitous dust and not particularly attractive strip malls. desert rats have written for years about the certain type of person who is able to love the desert, and this is not the pink and orange desert of the colorado plateau, which anyone can fall in love with (jess told me a while ago about a cowboy on a wyoming cattle drive who told her last summer about his love of the prairie: "anyone can love the mountains. that's easy and obvious. but loving the prairie takes time, and once you do, you're in it for life"). and i don't think i ever quite loved the lower sonora desert, not in its entirety. i loved the smell of creosote after rain, the sunsets, the ocotillo blossoms: the things any semi-observant visiting tourist would note and appreciate and buy a postcard. maybe it was because i lived there at a time when i wasn't inclined to really love anything, and now i somewhat regret not being more open to it. each time i return, i uncover a new layer of understanding, and then leave again.
Ammie, Battles are lost in the same spirit in which they are won:
I grew to love my adopted home with a passion. I got a bicycle and began realizing how much friendlier the city was when you took the time to look at it, to travel through it and pay attention to the small details and to interact with it in a meaningful and mutually beneficial way. I made friends who were smarter than I was about such things and already recognized the beauty of the mountains and the bare branches of palo verde and ocotillo, and I realized that the creosote smell after a rainstorm was absolutely amazing and even almost made up for the fact that the city had apparently been built without functioning gutters and so flooded during every brief downpour. I learned that dirt is not always just dirty; it's also sometimes necessary.
Lauren, What's at the heart of your engine's race?:
If my love for Tucson began because it was the city I found Jesse, it matured because it was the first city I had my own place, my own independent, "grown-up" life. With friends, a house, a job, a school, and streets and mountain ranges whose names I knew by heart. I rode my bike everywhere, hiked, went to concerts, and hung out with a family I was pretty sure would be my sort-of in-laws one day. My grad school friends and I started our first semester writing the obligatory, "Jesus fucking christ, it's hot, and look at the Saguaro" poems. Once we got that out of our systems, we could move on to more subtle meditations on "place" by mentioning the ocotillo too. No landscape had ever inspired more poetry in me. I still wish the MFA program had been three years long instead of two. I've missed Tucson ever since leaving it.
We may never be able to "be true" to a place (or even ourselves), but that's part of the wonder of it, and why we write poems and elegies and fall in love with dirt and transience. If loving Tucson means I am doomed to romanticize lizards and turquoise, then so be it. I am resigned to be both defined and defied by place. In fact, it gives me great joy to admit I am a plaything to the forces of memory and longing, whereas before I could only look upon them with anxiety.
I leave you with Abbey again, that clever bastard, who wishes you this legacy: "May your trails be crooked, winding, lonesome, dangerous, leading to the most amazing view. May your mountains rise into and above the clouds."

I've never hated Tucson, my hometown. My homeboy. My home de plume. I'll defend it to the grave, and have had to defend it many a time, sadly. To asshole boyfriends, to people who call it "the armpit of Arizona" (I'm looking at you, Phoenix! (Also, it's called Yuma)), to telemarketers who ask where "Tusson" is, to people on Twitter even. That's how devoted I am to the city that welcomes everyone with Valley Fever, whose rivers are dry dust 90% of the time and whose skies are so blue they burn.
I don't go back often, despite my territoriality. I believe in the Mariah Carey doctrine, that you must set free what you love, and if they come back, it's to tell you about the gonorrhea. Or the eczema, in Tucson's case. I don't visit Tucson for all the cliché excuses imaginable – Work. No time. Places to see, people to do. In-laws that need visiting. Unemployment. Time, but no money. Instead, I say to Tucson, "Come see me. Come to where I am and I will remember you." This doesn't bode well, for either party, as you can imagine. But I can't help it – I want commitment. I want the ghost town of my past to grab a trowel and unearth itself from my flaky memory. I want roots to dance, in ruffled skirts and with too-loud trumpets. I want to view the distance between us as something other than loss.
But I can't, not easily, at least. Each time I go back to Tucson, something else falls away. A childhood friend. A 24-hour Mexican food chain. The rotted limbs of a pomegranate bush in my front yard. The yard itself, which has never been mine, actually. It belongs to the University of Arizona. Someday soon, I will have to say goodbye to it entirely. The house, with its acres and acres of farmland bordering the Santa Cruz river, the hayloft where I would bring potential boyfriends to make out with in the most uncomfortable way possible, the easily frightened cows, pierced with fluorescent tags and swathed forever in flies. I used to feel so sorry for them. I would call to them, (I spoke fluent cow) and beckon them to wrap their meaty tongues around my arms. I only had the courage once to ask my dad what would happen to the cows once they left "our" property. "They're research cows," is all he said in reply.
As Tucson-the-place erodes a little more each day in my mind, Tucson-the-eternal never fails to delight. Ammie talked about this – the peculiar religion of the creosote bushes after it rains, whose scent demands penitence, the mountains that enfold you on all sides, the unapologetic hippie crystal love fest and the wranglers with gun holsters next to their cell phones, the dust that gets everywhere to the point where you're not breathing so much as chewing. I dread leaving it, each time. Yet, I can never quite place the sadness. Where do you come from?
As Alain de Botton wrote in The Art of Travel, "…the pleasure we derive from a journey may be dependent more on the mind-set we travel with than on the destination we travel to. Instead of bringing back sixteen thousand new plant species, we might return from our journeys with a collection of small, unfettered but life-enhancing thoughts." That is, perhaps, what is most troublesome about Tucson.
It never fails to remind me of my insignificance.
That's not necessarily a bad thing, of course, but in the wake of many recent life tragedies, involving cancer, floods, and being unemployed for three months (just to name a few), this realization of insignificance was much less inspiring than say, the Grand Canyon.
Until the universe knocks me back on track, however, I am learning to be content living in this slower space, where learning about community supported agriculture, reading good books and writing about things both inane and metaphorical are my current form of dwelling.