sex
now browsing by tag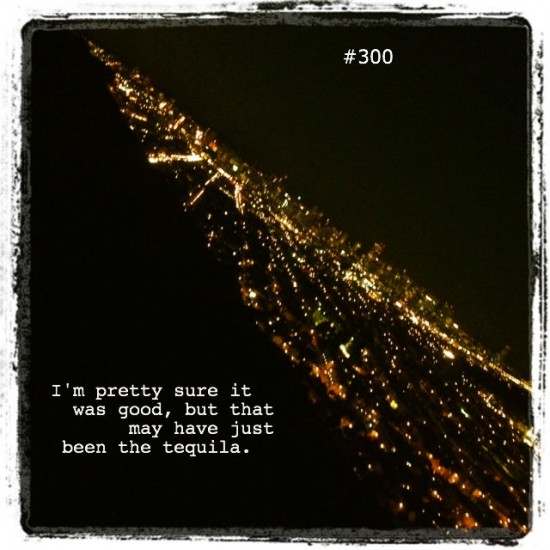 Thank god that era is over.
Also, 300 haiku y'all!
Related:
#270
My love is half bird
and half law. It's up and up
and up, then over.
_________
#271
This crush, relentless.
I am like a cat and she's
a laser pointer.
_________
#272
Your heart is a street
that has no sign, but still I
found you. I found you.
_________
#273
In therapy, I
talk to pillows about my
qualms with pillow talk.
(#Meta)
_________
#274
Give me your deserts.
Here, a girl can wade without
ruining her good shoes.
_________
#275
Reflexively, my
arm extends. An offering,
or to defend?
_________
Related: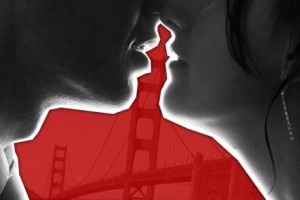 Forgive the delay in this gripping series of enemas and ghee drinking shenanigans. Since I got back from India, I've been swamped trying to catch up with life and bills and the consumption of fried cheeselike things. I've also been hobnobbing with Dan Savage (by hobnobbing I mean we talked on the phone for 10 minutes) recently, which was super exciting and awesome. I was on his podcast talking about this Salon essay I wrote about how San Francisco fucked up my sexuality.
www.anyway.com
If you missed Part 1 and Part 2, there they are. So shiny!
Moving on then. After you've completed your internal oleation (aka drinking butter) around Day 4, they start you on the external oleation (aka full-body oil massage, followed by a steam bath). Sounds like a spa day, yeah? And it kind of was, and was mostly not unpleasant, but only when comparing it to the previous days' regimen of dry heaving and shitting everywhere. Actually, that's an exaggeration. It wasn't THAT bad. I never swore or cried once during the oil massages, not even when they karate chopped my face and slapped my feet like they had just swore in church. "Bad feet! Sister Mary Clampett is so disappointed in you."
The steam bath was a smallish, steel box, with a hole cut out of the top for your head to stick out of, as if you were dressing up as a breadbox for Halloween. Inside the box was a bench for me to sit on, with a steal bar strategically placed to push on my lower spine, which afforded the least amount of comfort possible and therefore led me to believe was purchased at some sort of sex dungeon clearance sale. Once I was in there, they covered my eyes and my heart and the top of my head with wet cloths, and left me to blanch. "Steam come?" said My Sadist, and I tried to nod in a way that wouldn't dislodge my various wetnaps. After a few minutes, the sweat started to drip off me in places I didn't know had pores, and I was naked and wearing only a mesh loin cloth, and so of course I started thinking about sex, and whether this kind of immobilization/heat therapy/spine torture was someone's fetish. It must be, I thought. There's a fetish for everything. Chewing ice. Popping balloons. Girls who fart on cakes. (I would link to these, but I already get enough lascivious Google search returns, so I'll leave that excavating to y'all).
Throughout my treatments, My Sadist and My Younger Sadist would whisper to each other in their Kannada dialect, of which I know approximately 7 words, all of which relate to bread (chapati, roti, paratha, kulcha, poori, dosa, naan, lest you think I'm exaggerating) and then they would laugh. Which I obviously thought meant they were mocking me. Even more so when they did it during the aforementioned foot-slapping. "You should see this one," I imagined them saying. "It's like she's never been scalded with hot bags of rosemary before!" In reality, I'm sure they weren't talking shit about me, lest it was to talk about my shit. But…no, where was I?
Oh, S&M. I thought about that a lot when I was in the steam box, oleating. I remembered this time in Chicago when I was 25 or so. I went to an S&M meet n' greet at a dungeon on the North side with S. and this middle-aged professor from Philadelphia who slapped me across the face, and then later cried when I didn't reciprocate his "love" for me. (Long story, touched upon in this Rumpus essay about guns). But the party was hysterical. It was like a job fair with spanking benches. There were nametags and Triscuits and tiny plates. A septuagenarian in a three-piece suit, whose nametag read something like "Mister Fister," poured me some apple juice and talked to me about James Baldwin. There were a few people on leashes, but most were in street clothes. I didn't know what I was doing there exactly, but I loved the weirdness of it all. That last sentence pretty much sums up my whole adult life, actually.
I was suffering then, but I never let anyone know it. I was heartbroken. I was constantly crossing boundaries because I didn't know where the line was to begin with. I wanted things to be different, but the wanting was a nameless, faceless thing with sharp edges I could only rake myself against. While I was driving to a man's house, a very sweet man who laughed constantly and asked me why we never went anywhere that wasn't my bedroom, a question that made me so nervous I never answered it, I called my mom and cried and begged her to talk me out of going to see him. "You don't have to do anything you don't want to," she said in her soothing psychologist voice. "You are in charge of your life." And I don't know how I'd failed to realize the obvious truth of her words, but it was like her saying so made me believe it, and I felt instantly better.
D. and I were talking about masochism recently. She said I was drawn to it, and I said that was probably true, but that it had nothing to do with sex anymore. I like the impossibly hard, the struggle and the striving make me feel more accomplished. Maybe that's a terrible way of looking at it. It's not that I crave hardship, but my ability to weather it instills me with a kind of pride. I can take it, I think. The pain, the waiting, the discomfort of a scalding massage, the discipline of a rigorous Ashtanga practice.
One time I heard my yoga teacher chastising someone from across the room. Someone who didn't want to do backbends. She looked up at Magnolia from the floor with this pleading face, and Magnolia said, matter-of-factly: "Do it. Do it, even though it's hard." I find her words in my ears often now, when I am doing something difficult. Do it, even though it's hard. Do it, even though not doing it feels safer and easier. Do it because you can, not because you want or don't want to. It's not about the failures or the successes. The trying is the reward.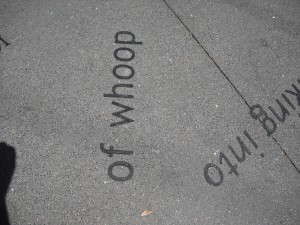 When the panchakarma was over, I got so many compliments about how healthy I looked. "You're glowing," a yogi friend said. I felt light and energetic and a little funny, a little not-me. And I didn't get sick the whole time I was in India, and I'd dread doing it again, but am glad I did it. I even got a few stories out of it, which is really the best a writer can ever hope for.
Related: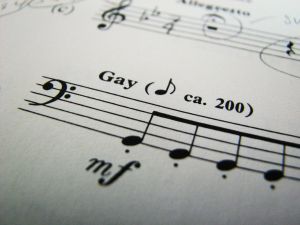 #247
Someday I'll meet a
girl good enough to take home
to my vibrator.
__________
#248
If you're a girl who's
vagitarian, all dating
is masturdating.
__________
#249
Lesbianism
in 8 words: "I can't date you,
but here's a poem."
__________
#250
At the lez sex
party, the biggest bed held two
women JUST spooning.
__________
#251
(Actual thing that was said to me by a friend yesterday)
I'd only be fisted
by a girl, preferably
with carnie hands.
__________
Related: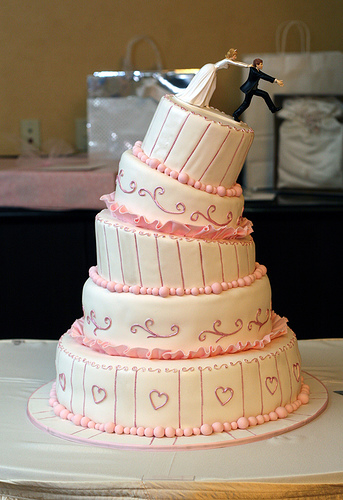 #231
Facebook: Great social
media tool, or one giant
wedding album?
_________
#232
Real is such a puny
word. Give me the flinch of
your hot, dry always.
_________
#233
Don't be gentle. I
want your drugged moods, your black
graphite, covering me.
_________
#234
I trust only our
Communion, its pleasure-scars
rage and bring me home.
_________
#235
I'm fucking somebody
who looks just like me. My
own dopplebanger.
_________
#236
Thoughts of losing you:
Unbearable. Never mind
you were never mine.
_________
#237
Some people look at
you with such kindness. It breaks my
heart to not look back.
_________
Related:
I'm really going to confuse people with that title. Sorry, porn searchers.
Watch me tell the harrowing tale of my first strap-on sex experience at Bawdy Storytelling's Girl-On-Girl night.
Related:
#209
Your heat undressed me
slow as sunrise — I mistook it
for tenderness.
_________
#210
What did we have, really?
Hot nights in cold beds where
neither of us sleep.
_________
#211
The word sits on my
tongue, thick with rage and longing.
"Congratulations."
_________
#212
I won't say it. I'll
stand, muted, proud — an altar
where you once worshiped.
_________
#213
Mud-tongued, I type "I
love you" into my keyboard,
which blinks and blinks and
_________
#214
Everywhere we've
never been, I make my home
there. And there I wait.
_________
#215
Distance is different
than the indifferent men
I must covet.
_________
#216
It's all my fault. I
allowed my baked earth to glimpse
your precious waters.
_________
Related:
My plan to irrevocably entwine myself with Amanda Palmer electronically is working.  Now if only I could deliver on my promise to demystify pulley sex. Maybe I should ask this guy.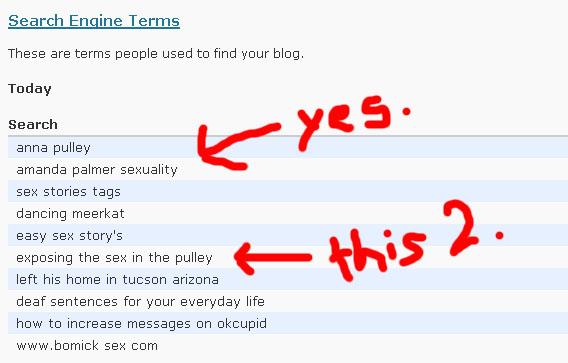 #205
I'm used to the women
I date being straight, but
never straightforward.
____________
#206
I'll never forget
our first meeting. You spoke to
my very soul: Hoooooooooooooonk!
____________
#207
It's redundant to
say you're gay and that you majored
in Theater Tech.
____________
Plus, at AlterNet I tried to figure out why I've had so many threesomes. The comments aren't nearly as wackadoo this time, unfortch.
And at SF Weekly, I tried to write a righteous "I hate Kindles" post, but since I'm bisexual, or "It's because you're Libra" as Lauren said, which isn't really true (I'm on the cusp!) I see both sides, and knowing me, I'll probably own an e-reader within the year. So, pot, kettle, blah de blah, just fucking read it.
Hooooonk: