okcupid
now browsing by tag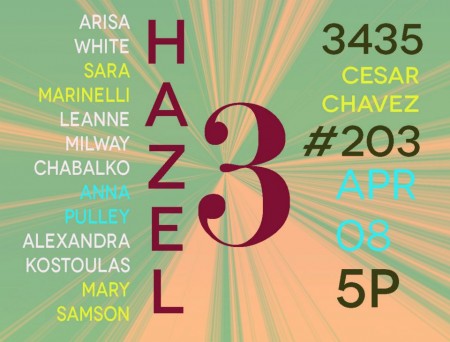 In case you missed it, here's a video of me reading terrible OkCupid messages at the Hazel 3 reading series and playing with my hair too much.
Want more? Follow It's Not Ok, OkCupid on Tumblr.
Big ups to Evan Karp of Quiet Lightning fame for being a kickass videographer at basically every lit event imaginable. He's like Spiderman. He always shows up at the right time. Also to Erica Eller, the series host, Rose Tully for selecting me to read without ever having met me, and my fellow fab females, Leanne Milway Chabalko, Sara Marinelli, Arisa White, Alexandra Kostoulas, and Mary Samson, whose videos/readings you can watch here.
#223
Faith is knowing I've
already lost you, and
loving you anyway.
_________
#224
It's true–I crave your
scapegoats. Such sting makes the
present feel effortless.
_________
#225
Some days, it seems the
only appreciation
comes from men in cars.
_________
#226
Dear hot girls on
OkCupid: You still have
to write more than, "Hello.. ;)"
_________
#227
F U – The game I
wanna play is called Words With
Friends With Benefits.
_________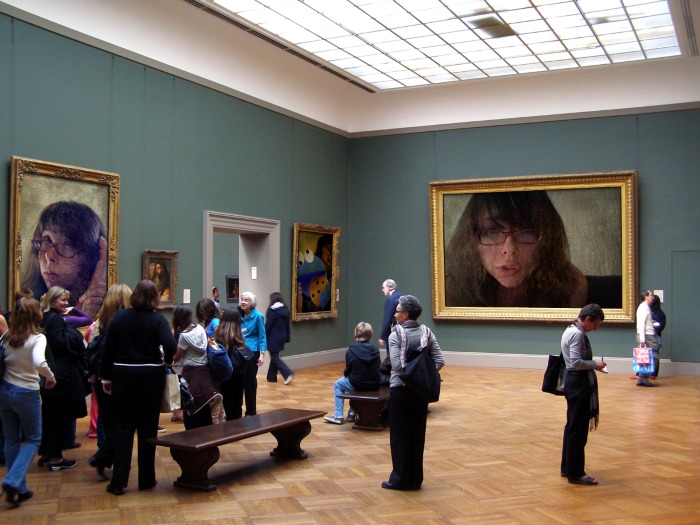 I've been getting a lot of spam lately on the blog, which means I've made it as a blogger, probably. The comments are always inane and riddled with non-English spambot typos, but their "names" are often really amusing. For instance, High Waist Shorts wanted me to know, "You really inspired me."
My work is done.
Except, of course, it isn't. I won't rest until I've reached every Online Diet Pill and Bunion Laser Removal on the world wide web. So, on that note, this is what you missed for the past few weeks.
This is pretty much the most amazing OkCupid message ever. It involves crane suspension and cookies.
At SF Weekly
At The Bay Citizen
For my debut post, I watched two artists make out in a museum for 7 hours. Really.
At AfterEllen
Things I didn't write/make but are awesome
I feel like most of these could also be subtitles to a book that desperately needs to be written.
#176
'Cause it's easier
to lie on the internet
than to someone's face.
_____________
#177
You were so much more
interesting when you were
two-dimensional.
_____________
#178
"Living life to the
fullest" and other sayings
that won't get you laid.
_____________
#179
His message: "I like
your socks." Tremendous! Let's build
a life together.
_____________
#180
"He has a comfy bed"
is not a great reason
to sleep with someone.
(again)
_____________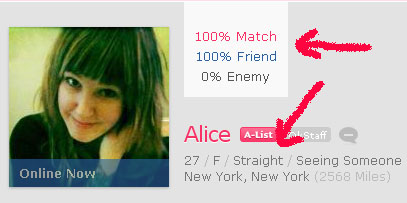 I got this message today from Alice, an OkCupid employee who I am curiously 100% compatible with (that's never happened before. Also, you'd think sexual orientation would factor into their matching algorithms.) Anyway, here's what Alice had to tell me:
Effective today, we are giving you a month of our A-List service free of charge. This is not a trick, a ruse, or bullshit.
We think you are a valuable member of our site, we think A-List is awesome, and like Reese's before us, we thought: why not bring two great things together and see what happens?
For the next month, you're free to take advantage of A-List's sweet features:
• Advanced match search options, including personality traits and attractiveness
• Unlimited message storage
• Attach photos to messages
• Create photo albums on your profile
• You can also change your username!
If this sounds good, go ahead and upgrade your account.
We aren't asking for your credit card or anything; there's really no reason not to upgrade. It is our gift to you. Let me know if you have any questions.
All the best,
Alice
How did they know to mention Reese's peanut buttercups, my favorite gas station indulgence?
Either way, it's clear that this is a stepping stone for them to start really pushing their paid services, and it comes rather quickly on the heels of Match.com buying OkCupid for a cool $50 million back in February. This is particularly amusing because not even a year ago (April 7, 2010), OkTrends, OkCupid's fantastic research and dating geekery blog, wrote a post titled, "Why You Should Never Pay For Online Dating." Of course, they took it down after the Match/OkC buyout, but several sites still link to the cached version, which you can view here no longer view anymore, apparently. But The Atlantic has a pretty good summary here.
I will not be upgrading my account for a few reasons:
1) The services don't provide any actual value. Sure, I suppose it's annoying to have to delete my messages once my inbox fills up, but it's not that annoying. And if I really, desperately needed to attach a photo, then I'd just ask for an email address. It's not like we're in some sort of post-apocalyptic war zone (yet). Other electronic avenues for communication DO exist.
2) Being an A-List member, in my opinion, doesn't help your online presence; it hinders it. Do you really want to be that douchecopter who is paying for a service that almost everyone else gets for free? It makes you seem desperate, bourgie, or simply that you are trying too hard.
3) I've never forgiven them for not putting me in their "most attractive users" list/scam. I believe this Princess Bride quote accurately sums up my feelings on the matter:  "You mocked me once! Never do it again! I died that day!"
4) Aside from the occasional LULz I get from sexually explicit message wackery, I think I probably hate OkCupid.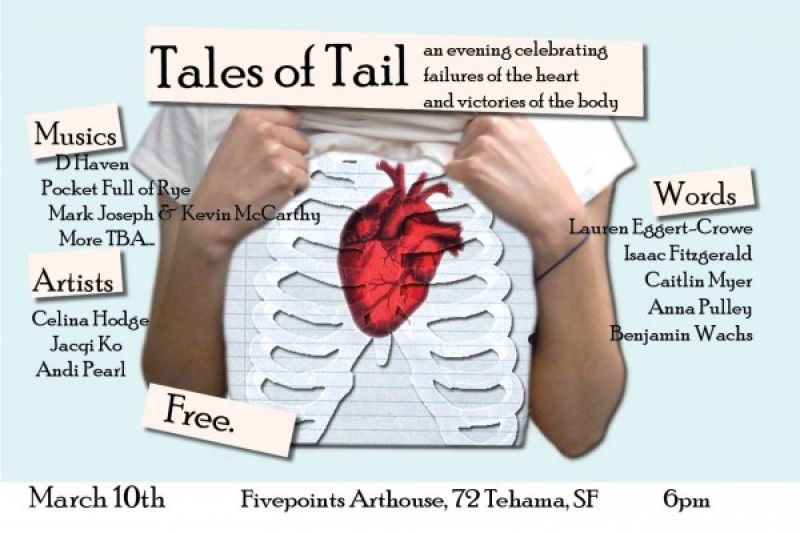 Bay Area Rockers!
Come watch me read embarrassing OkCupid messages in a flat, yet bewildered tone next Thursday, March 10th at Fivepoints Arthouse. Guest appearances by the ran-stone cowgirl dude, polyamorous-bear-my-children-and-do-my-data-entry dude, "check me out with the cops" dude, and many, many more.
Short description: Celebrate heartbreak and hook-ups with San Francisco's finest blend of talent – from songs of sorrow and woe to hilarious dramatic readings of awful OK Cupid messages, this night will entertain and enthrall even the most bitter and broken-hearted of the Bay. The evening includes music, readings and art…love, woe and sex.
Featuring: Pocket Full of Rye – D Haven – Kevin MacCarthy and Mark Joseph  – Isaac Fitzgerald – Caitlin Myer – Benjamin Wachs – Lauren Eggert-Crowe – Andi Pearl – Celina Hodge – Jacqi Ko
If you're into RSVPing for things, go here. It's FREE, and there'll be music and artsty and funny there. You come!
Also, that is totally my torso in the flyer.
#141
I want to hold you
like parentheses, for once
nothing between us.
________
#142
Skype sex? Can't you
masturbate to my Facebook photos
like usual?
________
#143
First time for
everything: rejected by a
(p.s. Tumbl with me!)
________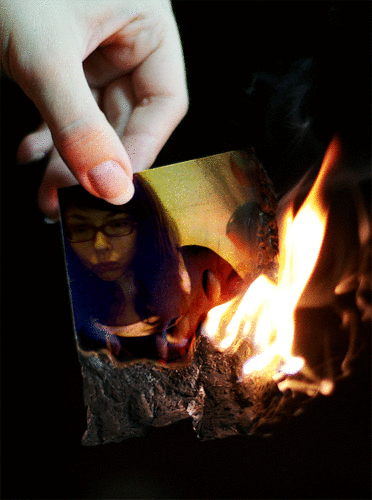 I'm way behind in posting shit I wrote that's not in blog-form, perhaps because I've been too consumed by lighting myself on fire on the internet. Alas (but not a lack), here's what you missed
at SF Weekly:
at After Ellen:
at The Rumpus:
in unrelated, random news:
I'm also half-assedly updating this tumblr that Jami started, It's Not Ok, OkCupid, where I post messages from people named Wind Candle and what-have-you. If you're on tumblr, and feel like taking a tumbl with me occasionally, then by all means go to town.
More haiku/substantial posts coming soon. Probably. Oh and if you have stereotypes about bisexuals, leave them in the comments!
From the MySpace Vault, with new additions added for posterity:
These are all first messages sent to me from random folks on OkCupid. I post them (mostly) without comment. I don't post them to be callous, but to provide an anthropological glimpse of what women deal with on these kinds of dating sites. Of course, this is the 15% batshit fuckery quotient. 85% of emails received are not worthy of mockery, except maybe for their lack of creativity. Sics all over these, of course.
From a 25-year-old dude:
Hi. You seem tolerable. If you're not, don't bother writing back.
From a 38-year-old submissive male cross dresser:
Hi could you use a good slave? a slutty submissive male cross dresser that will dress and do as you wished i do love to please a woman and make her happy. could you be my Mistress?
my email is [redacted]
Ed note: This was a stock email that he sent to everyone. I know this because my girlfriend at the time also got the same message. And then he forgot he wrote to me already and sent it again a few months down the road.
From a 25-year-old straight girl in SF:
you seem healthy yaaay
From a 30-year-old man, who has written me MANY times, despite my non-responsiveness:
The cunnilinguist was crazy earlier forgive him. I am now in charge:
cunillingus will be performed at 12 midnight for all participating lezbianna goddesses == performed exactly as she demanded by any of three hooded and masked people she chooses (don't worry this is just big mind pschizophrenia)
but to a more serious and light filled side now that I have demanded your attention
did you know how sacred cunnilingus is, how revered and how imprtant it is to the survival of our evolving race…?
Here is some historical facts: [And this is where he proceeds to completely plagiarize the Wikipedia entry on cunnilingus, despite not knowing how to spell it]
Although not spoken of openly in Western society until recently, cunnilingus is accorded a revered place in Chinese Taoism. This is because the aim of Taoism is to achieve immortality, or at least longevity, and the loss of semen, vaginal, and other bodily liquids is believed to bring about a corresponding loss of vitality. Conversely, by either semen retention or ingesting the secretions from the vagina, a male or female can conserve and increase his/her ch'i, or original vital breath. In Taoism:
The Great Medicine of the Three Mountain Peaks is to be found in the body of the woman and is composed of three juices, or essences: one from the woman's mouth, another from her breasts, and the third, the most powerful, from the Grotto of the White Tiger, which is at the Peak of the Purple Mushroom (the mons veneris).
This is from the same guy:
looking to celebrate intenational v day today — would love to by performing sacred felatio to be honest… interested?
in the disguise of a god, consummating his service to the goddess of course
This is from a 56-year-old man in Chicago:
tell me why i should pick you -looking for a friendly talk-we can start anywhere-.i have no long didtance on my phone so you have to call my way-.my name is bruce [redacted] -. i live at [redacted] in chicago, il.- please call me between 2p.m. and 12 midnight central time-.call me till you get me [redacted] -get a phone card or something and call me please- i think age is a state of mind and to the people who think i too old to talk to and be with all i can say is you dont know me and i take a chance on anyone who wants to be with me amd talk with me to know me and to see me in person- the world would be a better place if people took the time to understand people of all races and to understand what the people is going though- i lose my family mom dad brother over the years- i just looking for good friends to be with- is that so hard to understand- friends who will call me up to see how i doing and to say you want to go somewhere – a movie zoo out for a cup of coffee etc etc- how can people be so cold to a friend in need- its easy to be hard to other persons that you dont know- there is no pity in the world for people you dont know well-
check me out with the cops if you dont trust me- better to be safe than sorry- bruce [redacted] [address redacted] [phone redacted]- what the world needs now is love sweet love- there is too little of it in the world -you have to call my way not me calling you- hope you understand what i saying i hope you understand i hope- i have a few rules that i hope you understand please 1- no lies no mind games no waiting games hoping you call me and see me no saying you want me and then never calling or seeing me be honest to a fault with me if you never going to call me or see me be honest about it so i can move on to the next person 2-talk to me on the phone and i tell you the truth the whole truth and nothing but the truth so help me god and if you dont like what you hear from me you can hang up on me…
Ed note: it goes on quite a bit further but you get the idea. I particularly like how he gave me his phone number and mailing address – more than once – and that I should "check him out with the cops."
From a 34-year-old man in Indiana:
Hey Cornhole,
Have a nice weekend and don't hurt anybody.
From a 22-year-old dude in Chicago:
come down to pint, in wicker park, between 11 and 6, thursday through monday, and order whatever's on special. do not identify yourself to anyone. eat quietly, leave, and never make any mention of it to me. it's a bit of a fetish for me.
love, nick
From a 26-year-old dude in SF:
I'm sure by now you're sick of guys propositioning you for sex, asking your hand in marriage, or worse…to meet their mothers. Don't worry, I'm one of the sane ones

I found your profile refreshingly honest and I think you are amazingly cute. But don't let your head get too big now, I haven't seen your cooking skills yet ;-). Write me back if you want to chat sometime
I did not note the ages of the following dudes:
Dude: It's too bad you're a student or I'd probably date you.
Me: I'm not a student.
Dude: It really is unfortunate.
______
I love telling erotic stories to make women climax in their panties and no this is NOT cybersex because erotica involves romance where cybersex only involves a man climaxing and leaving without satisfying the woman. Would you like to hear one sometime?
______
Are you really a man or are you joking?
And of course, who could forget the ran-stone cowgirl dude.