creepy
now browsing by tag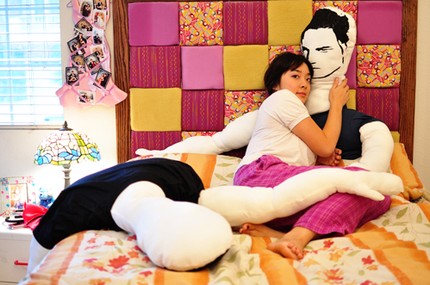 It was bound to happen. Someone on Etsy created a freakishly armed, giraffe-necked pillow, excuse me, manllow, in the form of Twilight's Edward Cullen. Why was it bound to happen? Because you can't spoon a poster, my friends. The artist does seem to have a sense of humor about her manllows, at least, describing them as: "The greatest gift of all time. 105% creepy, 5% loveable [sic]." Also, in case you can't tell, the other manllow copping a feel is Jacob Black, aka Abs McWashboard, though I don't think the manllow comes with an added 12-pack.
A few other bizarre Twilight items for purchase are: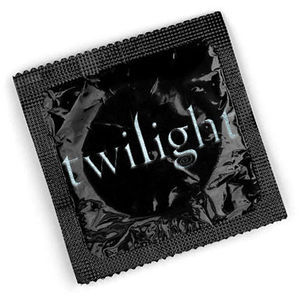 Twilight condoms. For all the sex the characters aren't having.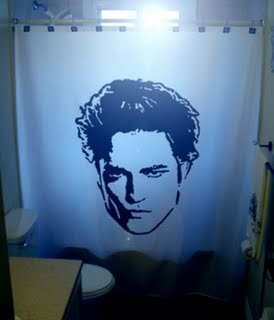 Edward is watching you…urinate! And he's not happy about it.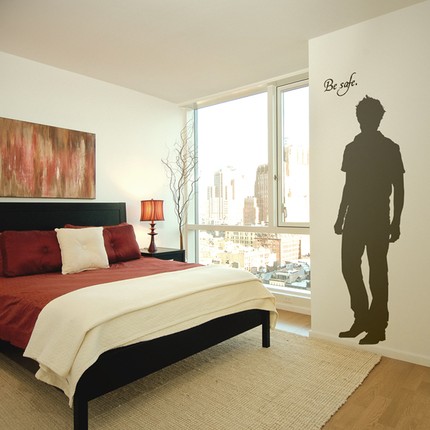 A life-sized Edward silhouette and caption reminding you to "be safe." My favorite part about this picture is that this is obviously an adult's bedroom, when your typical twihard is prepubescent.  "Yes, a Twilight silhouette would go splendidly with my ivory sheeting and bronze sateen tape." It would also, I'd hope, ensure that whoever pasted this to their wall would never have sex again. Or perhaps it serves as an extra reminder to use those Twilight condoms.
Related:
This is a hilariously horrifying video about masturbation. It also seems to imply that this kid is masturbating to his mother at the end. WTF.
Just, wow.
The exercise-by-hand-job trend lives! This time the hilarity comes from Easy Curves, where a woman in a white lab coat tells us how "university research" has proven that you CAN get huge boobs if you'd only stroke this light saber for five minutes a day!
The weirdest part of this video, if such a thing can be differentiated, is how their boobs look like animatronic puppets moving on their own free will, as if any moment they might decide to shoot up into your neck or something like those traumatizing, head-removing things in Labyrinth.
"Crazy Horse dreamed and went into the world where there is nothing but the spirits of all things. That is the real world that is behind this one, and everything we see here is something like a shadow from that one." -Black Elk
Vacations (even though I've technically been on vacation since October) cause me to remember my dreams fervently and explicitly. I experience them with my whole body, and, though I can't be 100% sure how much of it is in my subconscious, I've had orgasms in dreams that feel every bit as real as those in life. Every undulation, the fibers of my skin pulling taut and releasing, the pinprick of ecstasy that kneads into my core and makes me unsure whether it's pleasure or pain I'm feeling – I feel it all, acutely, in dreams.
Here's the rub though, I only have dream orgasms when I am taking advantage of unattractive actors. I don't even mean sexy ugly, I mean straight up UGLY. I've tied Steve Buscemi to a chair and had my way with him. Oh yes. This Steve Buscemi:
I've had a throw down with this guy, whose name I don't even know, except that he plays the drunk sheriff on True Blood:
You know now that I think of it, he also played a pedophile in some Keanu Reeves movie…with Al Pacino as the devil…shoot, what was that called? Anyway, the point of the story is, OMG GROSS.
And more importantly, WHY? My friend Lauren said they could represent certain parts of my self, like deep down I am giving attention and validation to those parts of me that I've deemed unlovable or unattractive. Or, maybe sodomizing Steve Buscemi symbolizes my attempts to take back the power and agency I've lost as a woman in a patriarchal society. This makes some sense, especially when one considers the cop from True Blood, an obvious symbol of authority. But more often, I seem to prey on the weak, the easy targets. So, I don't know.
Then there was the threesome dream. Ellie and I were involved in a vaguely sexual but not yet consummated relationship with a youngish guy, I'd say early twenties, sinewy, dark skinned, ambiguously ethnic, with a sliver of black, cropped hair and Frida eyebrows. He extolled our physical virtues and examined us, not unlike the prized pig competitions at the county fair, except we found it immensely flattering. I wanted to have sex, and Ellie didn't, but she gave me the go-ahead and said she would watch instead.
What happened next, however, was that he poured coarse salt into my vagina, then each of them took turns spitting water into it, to moisten the salt and "prepare" my body for sex. It was very ritualistic and I could feel the salt, like rocks in a cement mixer, breaking down and churning inside me.
So hot.
The internet has this to say about salt:

Salt in a dream is an unhappy symbol that brings chaos and discord with it. Dreaming of salt will denote that things around you will get a little fouled up and slightly askew, to put it mildly. You will find quarrels in the family and with friends break out at the drop of a hat with little or no provocation.
That's not a very satisfying interpretation, however. This one is slightly more interesting:
There are more than 30 references to salt in the Bible, using expressions like "salt of the earth." And there are many other literary and religious references to salt, including use of salt on altars representing purity, and use of "holy salt" by the Unification Church.
There were other dreams too, involving toothpaste-coated blow jobs, and a beautiful demon whose ass morphed into a droopy black hole, but I'm not going to go into THOSE. For, as Anais Nin said, "The dream was always running ahead of me. To catch up, to live for a moment in unison with it, that was the miracle."
The experience is the miracle, not the interpretation, which should, no doubt, be taken with a grain of salt.
"Give the gift that Santa can't give, a pap smear." Fuck, I already mailed my Santa letter! I hope he'll at least send the condoms that look like candy canes. Those should really be sold year round.
There's a Jewish one too. "Give the gift that will light up her menorah." Why do these ads sound so sexual? Like this woman, who is frankly a little too excited about her boyfriend's prostate exam.
and i thought this was bad enough.
i was wrong.
wouldn't the american people rather wipe their tushes with dubya? "wipe your memories of bush away with 'wipe your bush' commemorative toilet paper!"
i mean this seems kind of insulting, right? or is this yet another reminder that hope floats?
My friend is dating this guy that has a "free" subscription to FHM (For Him Magazine) which is so much more than a clever acronym. A wannabe Maxim, FHM hosts a panoply of "universal truths that define guys as guys" such as "My Best Friend," which showcases Jessica and Kara, two best friends, untying each other's string bikinis in a sudsy jacuzzi. What makes Jessica and Kara such good friends, you ask? Kara: "You throw your boobs on my head." Jessica: "And you love it."
There are not only hundreds (hundreds!) of scantily clad ladies for you to clean your pipes with but at the end of the magazine is a section called "20 HOT DATES!" These ladies are looking for love in all the right places. If you see one you like, you can contact her, probably with your credit card information. Without further ado, meet…
Kelly: "I had my DD breasts reduced to C's because I was tired of guys' comments. The only thing they were good for was hiding stuff. I once smuggled a fifth of vodka out of a party between them."
Angela: "Guys think I'm high maintenance but I'm not–I just want to do things most people can't afford, like flying to France for a date.
Shannon: "I love karaoke. I got my best friend to sing 'Baby Got Back' with me, but she kept yelling, 'Don't rub your butt on me.'"
Jenafer: "I'm really aggressive. I once tried to kiss a guy at a party, but he resisted. I tried and failed five times that night. There's nothing wrong with working to get what you want."
Tiffany: "I hate when guys get all hard street-talking on you. I guess that's what I get for dating white guys with gold teeth."
Jodie: "I've been learning striptease with help from a Carmen Electra DVD. It's fun and Carmen is sexy, but it's hard work too. The first time I did it, my butt ached for two days!"
Morgan: "Once I said I was Hanukkah when I meant Jewish. I also thought the Carolinas were islands."
How is it that AC Slater, aka Mario Lopez, the host of Pet Star on Animal Planet, soap actor on the Bold and the Beautiful, and made-for-tv-movie star on Husband for Hire was selected as People's Hottest Bachelor?
Sure, he has abs. But he's also played a space captain that informed guests of the adventure-to-come while they waited in line for Space Mountain at Disneyland. Is this really what we want to tell our children in future years? "Well, Timmy. It was a rough year for male celebrities. Heath Ledger was out of the ringer and calf implants made it virtually impossible to differentiate hotness. Plus, have you seen Zack Morris from that era? Eesh."
Then, as if that weren't bad enough, Showgirls and Saved by the Bell alum Elizabeth Berkley has signed on to a multi-episode arc on The L Word next season, according to Entertainment Weekly. After Cybil Shepard, I really didn't think the L Word could go any further downhill. Way to prove me wrong, ladies. Way to prove me wrong.
Also, has anyone else seen her pretty creepy website that purportedly helps build girls' self-esteem?
I'm going to hole myself away for a while, at least until Dustin Diamond's homemade porn becomes a Lifetime miniseries, which honestly can't be too far off.