cancer
now browsing by tag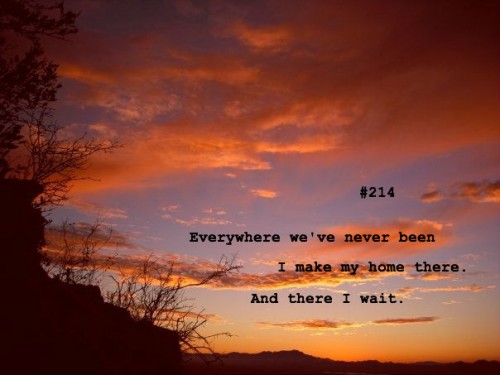 They removed the cancer (again) on Thursday. While they were in there, they took his left lung too.
I was still in San Francisco, so my mom relayed the news to me, via my brother who was actually there. When I asked, "What does that mean?" my mom replied, in total earnestness, "Well, Anna, everyone has two lungs to start out with…"
Which was just endearing enough to make up for the fact that my mother thinks I'm retarded.
↔
A friend of mine and I were talking recently. Both of our parents have lung cancer, and though we have a great many things in common, cancer is what brought us together. When she found out her mom had it, my friend decided to chop her long hair off. She asked me if that was my excuse too. I didn't think so at the time, but now it makes sense. When we're faced with these terrible, powerless truths — the people we love will die, possibly now — we think that changing parts of ourselves, parts we can control, might help us get some of that power back. I can't jump into my dad's ribcage and forcibly remove his cancer, but I can get an asymmetrical haircut. I can buy acid-wash jeans. I can blog about it. Of course, I don't feel any more powerful. All of my decisions these days feel both dreadful and impulsive, as if life is a motorboat and I am what's caught in the rudder.
↔
When trying not to cry at work, I use a trick I learned from Cheryl Strayed's novel Torch. You focus on something innocuous — in the book it was a can of beans — and repeat it like a mantra. Can of beans can of beans can of beans. Until you are calm again. Until you've regained composure. It works 90 percent of the time.
↔
When you're depressed, you get to a point where crying no longer feels cathartic. You simply feel like a sack of shit. You feel emotional, that dreaded word so often used to disparage women (and men too). Today I cried during a Katy Perry song. I tried to console myself by saying, At least it wasn't the song about blacked-out teen threesomes. It could've been though.
↔
I am tired of people asking me how I'm doing. I know these people mean well. I know they care about me, but there is no answer that's not going to depress either one or both of us. Also, it makes me feel like this delicate thing. A thing that needs to be tip-toed around and inquired after. While I am both of those things, I'm also not. Mostly I'm just tired. Mostly I want to tell everyone to go fuck themselves.
↔
In the past, when I've felt worthless, I try to turn my insecurities into admiration. I read my genius friends' writing, like Erica Watson's "The way we've always watched flames:"
…See how the palms of your hands stay cool
if you hold them to your face against the fire while the backs
burn and glow and there is something so exquisite
about that pain. How much of this is death and how much
is love, then, those things we're not supposed to write about
or at least mention by name?  The fire burned strong though
the wood was old and wet and heavy. You told me you're tired
of people telling you you're brave and I said I'm tired
of people telling me I've saved them. I don't memorize
the name of your sickness or its symptoms.
I don't listen enough, or well enough, and I'm a horrible gossip.
I don't finish most things I start. I don't start much …
↔
In the airport, I bought Oprah's magazine and read it cover to cover, twice. I took detailed notes about things that in no way apply to my life. How to get your dog to stop barking at the doorbell. How to wear Spanx with dignity. I found it all absurdly, profoundly inspiring. As if Jesus was speaking to me and he said, This is the lip gloss you'll need to get your life together.
↔
I take lots of notes, not just in hospitals, though especially in hospitals because there is so much that can't be understood, yet so much I want to understand. Thankfully, there are pamphlets. Under the broth and the jello was a pamphlet: "What you need to know about your clear liquid diet." Even broth needs bullet points sometimes.
↔
I forget that I'm afraid of snakes, except in two circumstances: when watching Indiana Jones movies, and when staying at my dad's house. I did both of these things recently. The last time I saw a snake was in 2005. A king snake lay stretched out on the cool tile between my old bedroom and the bathroom. I jumped over it and ran out of the house like it was a bomb. When I came back in 20 minutes later, with reinforcements, the snake was nowhere to be found.
↔
My brother's old room is a kind of glorified shed now. We keep all the crap in there we can't throw away, but also probably won't use again. In one of my many boxes were print outs of bell hooks essays, drag king anthologies, novelty books that were purchased during the phase in my life where I wanted everything to be miniature, etc. I think about going through the boxes every time I'm home. Every time, I take a quick survey, briefly rifle through the dusty detritus, and then back away slowly, as if I just stumbled upon a crazy person or a goat.
↔
I wrote down Alternating Leg Pressure machine because it had my initials. I thought, I'll always be with you dad, if not in person than in the form of a slowly vibrating leg cuff.
I wrote down "oropharyngeal suction catheter." And next to it, "fancypants toothbrush."
I wrote things down in hopes that the small act of motion would help me feel less alone. I wrote things down because that's what I do.
I wrote, "One lung." And next to that, "Better than none."
Related: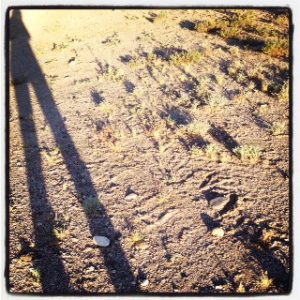 At my dad's house in Tucson, almost everything I picked up was expired. The contact solution. The Aspirin. The Frosted Mini Wheats. I consumed all of it anyway. So far, none of it has killed me. 2008. 2007. A chocolate rose from my senior prom in 2001 might be the oldest thing I've yet to throw away. Or a rose pin from godknowswhere, dusty, made from a stiff kind of velvet. I pinned it to my jacket so that I could show you later, like I should be rewarded or something.
The cancer came back. I thought that too had expired, but there it was. I didn't throw away the contact solution or the Aspirin, but I did throw away the milk, but not before using it in three cups of coffee first. I said, There's something about drinking coffee all day. I said, It's because of the Frank O'Hara poem:
oh god it's wonderful

to get out of bed

and drink too much coffee

and smoke too many cigarettes

and love you so much
And then I remembered the cigarettes.
When I left Tucson this time, he cried. It was the third time I'd ever seen him cry. And when a doughy man in khakis and a white button-down passed me in the airport, I could smell the tobacco on him and it repulsed me but still I walked too close behind him until I saw my gate and was forced to veer. Sometimes I think I'll die of lung cancer anyway because I grew up around so many smokers. Sometimes I think this is inevitable even though I've smoked five cigarettes in my life. Sometimes the smell turns me on. The chemical burn. It smells like bad decisions.
Sometimes I sneeze when I get turned on too quickly and you said that happened to your ex too, and I thought, She's one step ahead of me everywhere. I thought, I'll never sneeze again. I thought about this author I know who's into S&M, who wrote me. I thought about how he cuddled with a friend of mine recently, and how I'd rather beat him up than cuddle him, not that he asked me to do either. Instead he asked, What are you up to? And, When are you coming back? I don't know him very well, but I feel like I do because of his words, even though people say that about me sometimes and I always roll my eyes. When you write about what cores you, people think they know what cores you. Maybe they do know. Maybe I should stop rolling my eyes so much.
I found my mom's leather trench coat in the closet, which was covered with mold. I found my grandmother's bowling shirt with the three crosses and "Anna" stitched to the pocket. I found the IHOP mugs I'd stolen in high school, which was perhaps my greatest teenage "rebellion." Aside from sneaking out to the Texaco to buy Snapple and Juicy Fruit at 2am.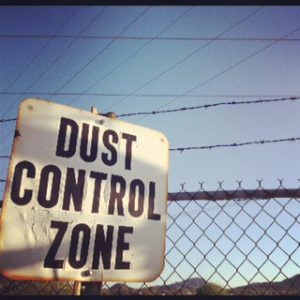 I texted you at the airport. I texted my ex and my mom and my married woman too. I didn't want you to be the one to hold my hand through this, but still I texted you. I put my hand out. Because my dad cried and then Adele came on the radio and I thought, I know what you're doing, Universe, and I'm not falling for it.
I told you there's a wig loan program at Arizona Oncology. And free qi gong on Fridays. You said, Write that down. So I did. I wrote down "Cisplatin" and "Gemcitabine" even though I didn't know how to spell them, even though I didn't want to admit how little I knew about chemo drugs. I know a little more now. I know that Cisplatin is an alkylating agent that disrupts the normal structure of cellular genetic material, DNA. I know that Gemcitabine is an antimetabolite that interferes with cell replication. I know that all of this is a verbose way of saying, We're going to kill everything.
The doctor showed us an x-ray of the tumor, which was on the left side, near his heart. I couldn't help but feel the placement was symbolic. I couldn't help but feel it on my own heart. I found a flyer for an acupuncturist in the waiting room, next to the too-much coffee and the non-dairy creamer I'm allergic to but used anyway. The acupuncturist was a lady with a white-sounding name, and I know he probably won't call her, but he took the flyer anyway because he loves me. So we just kept drinking coffee and he talked about Tucson politics and how we both wear our hearts on our sleeves and how we're (still) (always) fucked.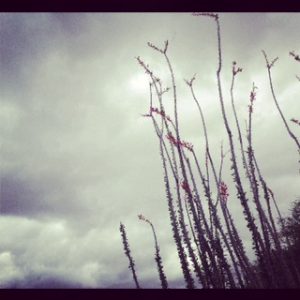 On my last day in Tucson, I took pictures of the Santa Cruz river and recited Jewel lyrics that I still remember, "…of a nation that's starving for salvation / where clothing is the closest approximation to God / and he only knows that drugs are / all we know of love heyeyeyey." I took pictures of the sky and thought, In the desert, everything can hurt you if you get too close. I thought, Soon this will be someone else's home, someone else's memory because when my dad retires, he'll have to move out of the not-ours house on University of Arizona property. I thought maybe some other girl will move in and bury coins in the dirt and make out with boys on haystacks and think it's a good idea to climb a  100-ft grain silo on a dare. And maybe she'll never find the things she buried and that'll be okay because they weren't hers to begin with anyway. Like you.
I wanted to run my fingers along the teddy bear cholla, but didn't because I'm 29 and not 9. I wanted to show you everything. I wanted you to know me, but you were in San Francisco, and maybe we can't know anything about anyone. But oh, I wanted you to know then. I wanted to tell you that the Santa Cruz is 225-miles long and that it's one of the few rivers that flows northward. Except that it doesn't flow anymore because, in Arizona, rivers are not actually rivers at all, most of the time. I wanted to tell you about the time I ate 3 Eggo waffles before track practice and threw up in the Santa Cruz. I wanted to show you the place where our trailer used to be, except, like the water in the Santa Cruz, it is also gone. They sold it to a guy in Wilcox, my dad said.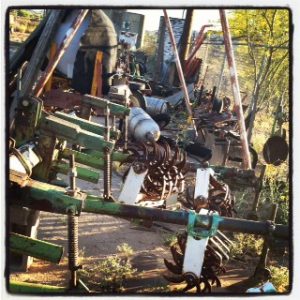 But the tree is still there, the one with the trunk painted white that we used to climb. And if you were here, I would point to the air and say, That's where our cat, Lucky, got stuck in the insulation under the single-wide. He kept meowing and we didn't know where it was coming from, but eventually we did, and my dad pulled him out. Later he was crawling on the barb wire fence near the rusted tractor parts and was gutted and my dad had to cut the fence off and I had to hold him upright with the barb wire sticking out of his belly while we drove to the vet, and I thought, I'm never calling anything Lucky ever again.
I would point to the ground and say, This is where the Diamondback rattlesnake was coiled up and sleeping one night when we came home from Peter Piper Pizza, and how terrified I was all night, but also sad the next day when my dad told me he chopped it to pieces with a hoe and sold the skin. I thought, But it wasn't doing anything. It was just there.
I would point to the middle distance and say, This is where I put my first boombox, which broke every tape I ever loved, but not for a while, and I was too dumb to stop using it. I broke Stevie Wonder. I broke Huey Lewis and the News. I broke Mariah Carey and The Beach Boys. Eventually I had nothing left, and started watching TV instead.
If you were here, I would tell you how angry I am and maybe it's powerlessness and maybe it's uncertainty and maybe I should stop searching for other words when angry will do just fine. But I can't because the tumor came back and I can't because you don't want to be with me. I would tell you these things, and it wouldn't change anything, but maybe we would know each other a little better, for a little while.
Related:
I am so honored to have been a part of such an amazing reading series at Portuguese Artist Colony. Big ups to Litseen for putting together all the reading clips (plus videos!). Definitely watch the delightful Lauren Eggert-Crowe read about trying to seduce a "true love waits" Christian.
I should also perhaps warn you that it's kind of a bummer, but there's some good jokes in there about carpet shampooers and orthodontists, so maybe it makes up for it?  It was actually kind of hard for me not to cry.
If you're not into "watching things" then you can read the piece at The Rumpus.
Related: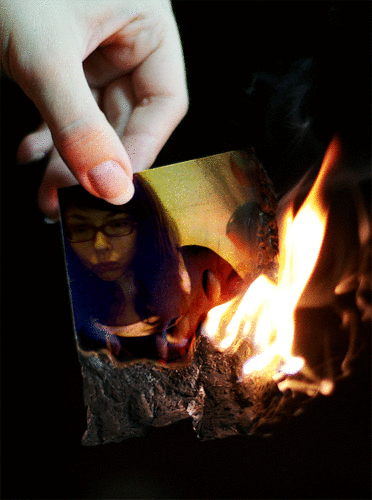 I'm way behind in posting shit I wrote that's not in blog-form, perhaps because I've been too consumed by lighting myself on fire on the internet. Alas (but not a lack), here's what you missed
at SF Weekly:
at After Ellen:
at The Rumpus:
in unrelated, random news:
I'm also half-assedly updating this tumblr that Jami started, It's Not Ok, OkCupid, where I post messages from people named Wind Candle and what-have-you. If you're on tumblr, and feel like taking a tumbl with me occasionally, then by all means go to town.
More haiku/substantial posts coming soon. Probably. Oh and if you have stereotypes about bisexuals, leave them in the comments!
Easy:
I don't remember what I was doing when my aunt called to tell me my father was dying. Probably it was something inane, like watching The Bachelor: On the Wings of Vom. She didn't say the word "death" of course, or "dying." But the message was conveyed, and I was told to come to Tucson immediately.
My dad had been in the hospital for almost two weeks at this point, alone, save for the daily visit from an amazingly generous neighbor. He came in with pneumonia; it was much later that they found the cancer. After my aunt called me, I called my brother in New York and relayed the news precisely as it was relayed to me, in a perverse game of telephone that somehow made me appear rational and calm. I was simply a messenger. My brother, as I did, received the news rather stoically, with a litany of Okays and promises to book airfare. It was only after I hung up that I burst into tears.
A few weeks before that, my step-dad had a stroke, and while he was in the hospital, my mom's blood pressure skyrocketed, which caused her to panic and check herself into the hospital as well. They were in different wards, so they communicated with each other by cell phone, as well as me, who called several times a day because that was all I could do from so far away to keep from panicking myself.
When I saw my brother next, at Northwest Medical Hospital in Tucson, it was evident that he'd been crying relentlessly, something that I have maybe witnessed twice in my life, once at the Haunted Mansion in Disneyland, when we were barely out of diapers. It was impossible not to cry at the sight of our father, who now weighed less than I did, and twitched uncontrollably from the endotracheal tube that was doing his breathing for him, and the straps that kept his hands from ripping it out of his throat, which the nurses told us he tried to do every ten minutes. He was heavily sedated, and when his eyes did manage to open, they were not his, but the mucuousy, glazed-over cow eyes I recognized from growing up on a farm. His lips were cracked and dry, and he drooled from the inability to close his mouth around the tube.
As Joan Didion writes in The Year of Magical Thinking, "The power of grief to derange the mind has been exhaustively noted." Yet this derangement is something whose "cure" can only be lessened with time. It's not considered a pathology. I was so deranged during my time in Tucson that I couldn't even write in my journal. I felt that whatever I wrote about my father would come true, and I did not want to jinx anything. I also couldn't have a single conversation that wasn't punctuated by uncontrollable fits of sobbing. Even the most benign questions, Are you hungry? Do you want to go for a walk? caused my grief to flare anew.
With the doctors, I tried to retain an ounce of composure, even though I could not understand why they were asking me, for all intents and purposes, a child, to sign documents that said "Do Not Resuscitate" on them. No matter that I was 27-years-old, and an adult by every conceivable measure, including that last important hurdle at 25 of being able to rent a car and carpet shampooer without having to pay extra. No matter that I'd been a functioning adult for nearly a decade. I could no sooner decide what to have for lunch than I could tell the doctors when to end my father's life.
I had nightmares every night for weeks. One of them involved me talking to my seven-year-old self. She was at school and she was upset because Dad wasn't there. I told her he was there, just outside the door where she couldn't see him, and she said that he would just have to leave again. Then we both started crying.
I signed the doctors' forms and asked simple questions that they couldn't remotely answer, questions like How long? Then I ordered dinner for my brother, my girlfriend and me. I broke into my house using the hidden spare key that my high school boyfriend once used to surprise me with flowers on my birthday, then later, after he dumped me, to return every gift I'd given him. After dinner, having somehow given myself the task of Adultness, I set about taking care of all I knew how, which, aside from eating and feeding the dogs, proved to be decidedly little. This was made even more apparent a day later when the bathroom flooded, seeping gray and black bile through the walls, onto the living room carpet and into my childhood bedroom. As the tiles of my bedroom floor warped and peeled off, and we used up every towel and sheet in the house and it still wasn't enough, I became convinced that there was no use trying anymore and burst into tears again.
When he was finally diagnosed with lung cancer, I was relieved. It had a name now, an expectation. He'd been smoking for fifty-odd years, after all. That his denial finally caught up to him did not surprise anyone, least of all me, especially since my girlfriend's mom had passed away just a few months earlier from a similar fate. I was in the room when she died, reading Junot Diaz's The Brief Wondrous Life of Oscar Wao, reading in fact, the scene where Oscar Wao dies, and when I looked up from my book after it happened, everything had changed.
I didn't see my brother smoke one cigarette while in Tucson. Perhaps he feared a lecture, or simply wanted to be alone in his grief, but I could always smell it on him. Just like after my dad quit smoking once before when I was a teenager, but it didn't last, and he took the habit up again in secret. Instead of admitting his defeat, he took really long trips to the gas station. He started closing his bedroom door more often. He went to get something from the shed, and always came back fifteen minutes later reeking of smoke. I wanted to tell him that I knew, that I didn't consider him a failure, but instead I just played along.
In another nightmare, Jonny and Dad were both talking to me at the same time. I told them to stop, that I couldn't understand them, but this just made them talk louder until they were both shouting and spitting at my face.
There were moments that I hated him too, even as he lay unconscious, emaciated in his hospital gown, for the addiction, and for the power it had over him. I'd always hated it, and as a child took to passive-aggressively hiding things from him whenever I could: cigarettes, lighters. When he was finally breathing enough on his own that they could take the tube out of his throat, he noted with irony that he had just quit smoking a few days before he ended up in the hospital. I wanted to believe him, but my grief made me vulgar. I frantically searched the house and threw away every ashtray I could find. It was imperative to me that they not exist anymore. Not even as trash.
Before the bathroom flooded, I found a sticker in my room of a family of gangsta Jesters, which I have for some reason kept for over a decade, in addition to several impersonal birthday cards from my orthodontist. Purging, I thought, was something I should do immediately. Something responsible. I got through two drawers before I found my San Francisco address written in his handwriting, which sent me into another flurry of tears.
The last nightmare, the worst one of all, was just a sound — an explosion — right in my face. It came without warning, propelling me out of the bed.
When he was still intubated, but the doctors lessened his drug intake enough for him to be semi-conscious, we tried to communicate with him using a chart that had big letters and numbers on it. We held it out for him and told him to spell out what he wanted, but he was too weak to even point with any accuracy, and his first (and only) attempt to ask for water spelled out W-A-R-F. "Warf?" Jonny said, amused. "You want to watch Star Trek?" The smile on my dad's face was the first sign of life I'd seen from him in days.
A social worker came to talk to us about death and was so unremarkable that the only thing I recall about her is how fucked up her teeth were.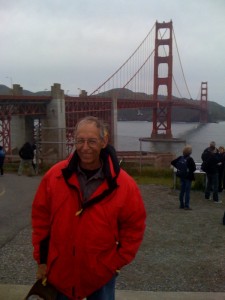 As the weeks went on and my dad stubbornly went on living, the doctors' prognoses became less and less dire. His cancer went from "taking up the whole left lung" to "about the size of a quarter." Instead of relief though, for I was far past that stage, I became furious. This was a good sign, I thought. Grief I could do nothing about, but anger I could. Grief was passive, but anger was righteous. I'd felt glimpses of it before, when one of the nurses told me not to touch my dad so much, that I was irritating him. As if being chained to a hospital bed, with tubes in his nose, throat, stomach and veins, and being sedated 24-hours-a-day wasn't the real reason he was irritated. No, it must've been me touching his feet.
I could also, I found, read books and internet articles about lung cancer. It seemed important for me to learn about this thing that I was avoiding by incessantly checking Facebook and sending cryptic yet alarming text messages to friends. This is when I learned that approximately 3,000 lung cancer deaths occur each year among adult nonsmokers from secondhand smoke. And that living with a smoker increases a nonsmoker's chances of developing lung cancer by 20 to 30%. And that some research also suggests it may increase the risk of breast cancer, nasal sinus cavity cancer, and nasopharyngeal cancer in adults and the risk of leukemia, lymphoma, and brain tumors in children.
This information that I was gathering, which was supposed to make me feel in control again, did nothing of the sort, so I switched to Michael Pollan's In Defense of Food, which talked about cancer in a much more manageable way, through vegetables. And I set about planning all the nutritious, cancer-fighting meals I would make for us, buying cruciferous vegetables and leafy greens, and as soon as he got out of the hospital, I went into the kitchen and prepared several dishes while my brother drove to Carl's Jr. and bought them both bacon western cheeseburgers and fries and sodas, which they ate out of wrappers while my girlfriend and I ate what we had made in silence.
We watched Seinfeld together at the dinner table, and for brief moments, we were a family again, and I no longer felt like a failure for not having a job yet in San Francisco, or even an interview, and the life I was struggling to maintain in a new city became inconsequential because I was supposed to be here, participating in this ritual of nothingness with my dad and brother and girlfriend, watching Seinfeld and eating wordlessly.
My dad continued to defy the doctors' odds, through chemo and radiation and physical therapy until I got a phone call from him in September saying he was officially cancer free. He told me this right before I was supposed to go on a date with a straight girl who, coincidentally, asked me out after I offered my condolences for her mom's cancer diagnosis. Her mom, it turns out, has final-stage lung cancer, which was one of the reasons she proffered as to why she could not see me anymore after our first date. I didn't believe her excuse, but I sympathized with it nonetheless.
None of that matters now, of course, though it mattered terribly to me then, as most things of little consequence do in the heat of the moment. What matters is that I just spent Christmas in New York with my dad and brother, drinking instant coffee and watching 30 Rock, and these things, these insignificant, boring details made me happier than I'd felt in a long time. And every time I think I know what love is, it changes. I used to be frightened by that, but not anymore. "Everything changes," my dad once told me, in an effort to get me to come out of my room after my teenage heart was broken for the first time. "But everything stays the same too."
Related: