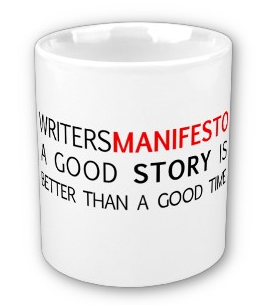 So, I know it's been 80,000 years since I've written here. But I have a really good excuse. I was making you mugs. Hand-crafted, one pixel at a time, on the Internet.
You'll recognize the words from Haiku for Adulthood #110. But this is even better because you can enjoy it at the SAME TIME you're enjoying a beverage. The future is magical!
Seriously, it's 2013, folks. Now is the time to finally stop drinking out of measuring cups.
Get on that and I'll get on you.
In other news, I was interviewed on LateNight Bubbles with Bernadette, a variety show about artists and performers in San Francisco. Everyone else was wearing an amazing spandex contraption or had 8-foot hair, or their nipples were on fire, so I asked my friend Jacques La Femme to tie me up so I didn't seem so J. Crew 20% off sale. Then I got carried on stage by two beautiful gay boys.
There's a whole series of clips on YouTube that I am too lazy to embed! But feel free, mom and dad.
One of the many topics we discussed was this essay I wrote for Salon, "Dominatrix for a Day" which is about what I always write about … exploiting my life experiences for money.
And this "10 Fun Facts About Lesbians" post continues to be wildly popular, and resulted in perhaps the most satisfying work email to date: "[Your lez post] is beating 5 Signs Tom Cruise Is Gay." I'm adding that to my resume.
What else? Here, I wrote you this poem*:
Kisses are great,
and so are hugs,
but if you buy
a mug, I'll get 2 whole dollars!
*I never said it was good
What's new with you? What are your goals for the year? What are you reading? What are you writing? I want to know.