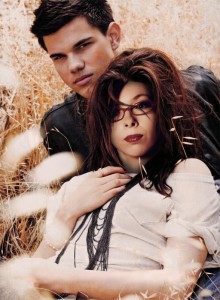 This Thursday, December 9, I'm going to be reading something at Adobe Books in San Francisco. But I don't know what! Haiku? Essay? Dramatic reading of OkCupid emails? What should I read?! Your input is much appreciated. I haven't read in public in a long time, like 5 years. So, I'm a bit nervous. But not as nervous as I was being held by Taylor Lautner in that field in that terrible wig the other day. Hoo boy. Speaking of werewolves, here's the shit I did when I wasn't here this week.
In gay town, aka After Ellen, I issued a moratorium on the phrase "real deal lesbian" and gave some pros and cons of moving out of state for your luvvah.  Oh, also, my awesome coworker figured out that I have an RSS feed there too. It's THIS. So if you don't want to wait for my lazy ass to post the links here, you can add that to your Google Reader or what-have-you.
At SF Weekly, I found out that 43% of people Google their dates, sometimes before even the first meeting. Hence, we're all stalkers. I also discovered a more appalling pun than "twirting." You'll have to click thru to find out. The week before that, it was whether the Facebook relationship status matters. It's my fave column so far, methinks.
I also reviewed this play about a gigolo. I was supposed to review Shrek: The Musical this week but I missed the press night and now they won't comp me. I'm far more saddened by this than I should be. So, if anyone knows of a play that runs roughly around December 20th that I should try to review, holla.
Yesterday, I finally experienced the glory known as SantaCon. To give you a brief glimpse of the santarchy, here's my friend holding a pug dressed as Saint Nick.