Christ on a pogo stick. Nothing makes you feel more productive than seeing all the work you've produced in a year all in one place.
I highly recommend keeping track of what you produce in some way, which I was able to do thanks to my newsletter.
This year
I published my first book, The Lesbian Sex Haiku Book (with Cats!), and Cheryl Strayed called it a "must-read" and Tegan and Sara said it was "an adorable and hilarious way to start the day" and Jennifer TIlly said it was "thoroughly charming."
We did readings all over San Francisco, Oakland, and Berkeley, as well as Chicago, Minneapolis, Seattle, and Los Angeles. We got more than 20 press mentions, including in Lenny Letter, New York mag, BuzzFeed, Mother Jones, and Catster.
I was on Dan Savage's podcast for the third time, talking lazy lesbians, baby dykes, and gagging during cunnilingus.
I was a Woman to Watch!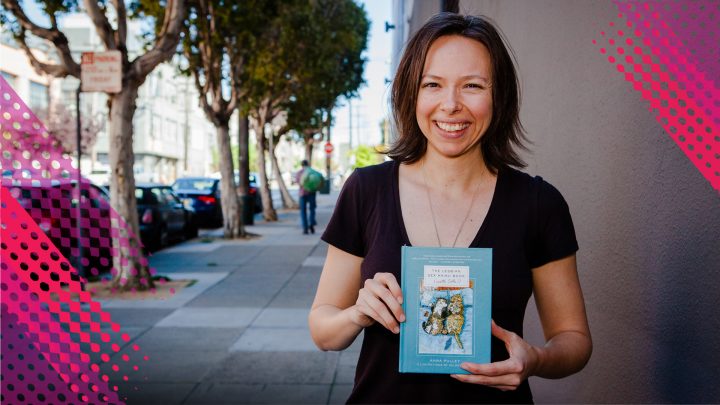 Essays
I wrote my most vulnerable essay to date, about being hard of hearing and the sometimes hilarious, sometimes awful repercussions of that, for New York magazine.
I got naked in Jamaica for my first essay on VICE.
I wrote my first essay for Fusion on being a half-white, half-Native person, #StopDisenrollment, and the complex issues surrounding identity and being "Indian enough."
I went to a pagan convention near the San Jose airport to talk to witches about BDSM for my first piece at Vocativ. And also to buy some crystals and a hoodoo charm "to reap power" obvs.
I also wrote about the Bay Area's most popular all-lady orgy, which celebrated its tenth anniversary. (For those who are paying attention, yes, it's the SAME party at which I also wrote about never getting laid!)
I consumed every weed product imaginable to try to improve my sex life in this essay on The Influence.
I told a story for Anxy magazine about deafness and the weird ways that Jewel has impacted my life and also this charming photo of me and my high school boyfriend, Mitt Romney.

Erotica and Self-Improvement and a Venn Diagram
Hold on to your "man-mushrooms," because I won an erotic Sherlock Holmes fanfiction contest. Later I won second place with "Witch, Please! A Very Lesbian Erotic Harry Potter Fanfiction."
I illuminated the top 3 dating mistakes for queer women, helped make small talk suck less, and taught you how to freelance like a boss.
Plus, one Venn diagram about the similarities between zombies and lesbians:
Fiction
I revised this little grief-soaked short story, "People You Loved Who Weren't Me."
Tinyletters
I wrote 31 newsletters and almost doubled the amount of readers! PS: You come?
Elsewhere around the Interwebz
At Alternet, I wrote about 7 lesbian stereotypes that are actually true, made a roundup of the best-worst OkCupid messages from It's Not Ok, OkCupid. My favorite one is still the guy who wanted a girl to build him a two-ton shop crane in exchange for cookies.
I researched ridiculous theories as to what causes lesbianism. Celery is one.
And I compiled the worst lesbian advice from WikiHow. Including: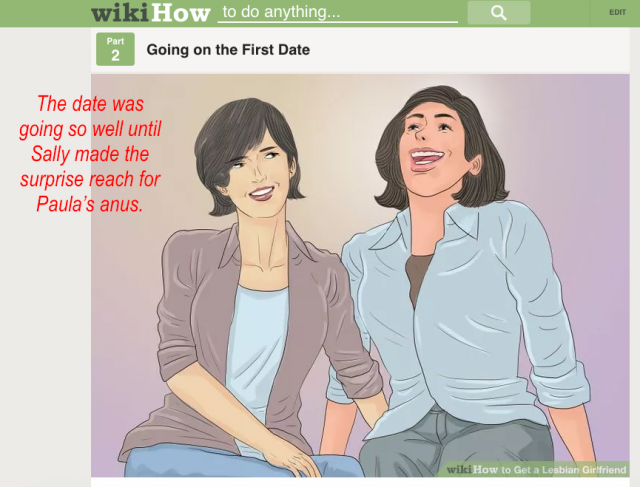 Then I wrote another one, aimed at straight people, in part two. Sample: "Communication is key … you won't be able to have the conversation you want to have if you try to talk at a loud concert."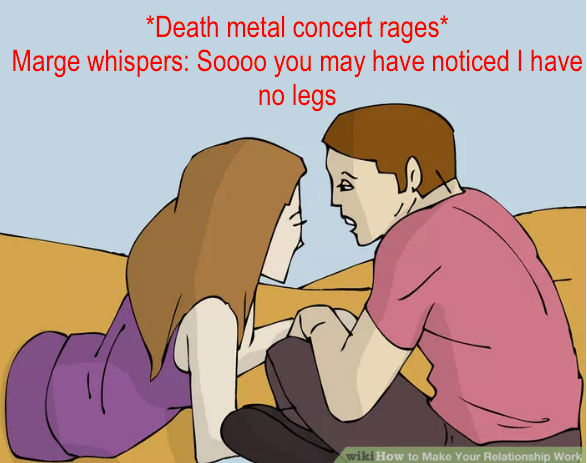 At The Toast, I haiku'd about what lesbians fight about and what they comment about on the internet, which resulted in, perhaps unsurprisingly, some angry comments by queer women on the internet. But also Mewby Rose!  
At The Influence: I wrote about how weed has been used throughout history for sexual reasons: "Put this weed gristle in your vagina and think of Mother Russia." I also detailed the times we've tried to "cure" female sexuality with drugs and vibrating horses and Lysol.
I busted myths about women's porn habits at The Establishment, and made my college girlfriend's high school dream come true by writing about her for Strings magazine: classical music + video game controllers + drones.
At TechCrunch, I wrote 10 haikus about Facebook's terrible trending news algorithm.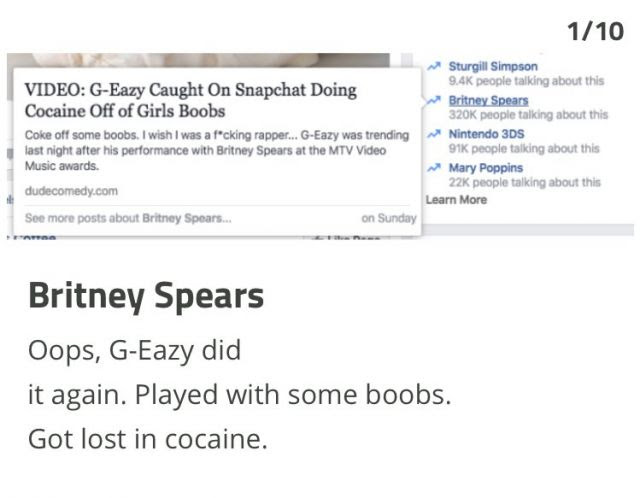 At the East Bay Express, I explored why so many bisexual men are closeted.
And I gave a fucking shit-ton of advice
Redeye
I wrote four quick 'n' dirty installments, which is my favorite kind. On dismantling the patriarchy with your penis. We're engaged. He's broke. What to do? On booty calls, kink dreams, and married men. Plus, an unexpected love quote from Freud. SO MANY DIDGERIDOO references. And, a lot of cheating married ladies. I maaaay have advised a gentleman to get laid by pretending to be a tiger wearing a monocle. And, how to be more romantic. It's easier than it seems.
Don't wear pants—and other advice for those having a rough week/month/year. A little-known lady secret that will blow your mind. On being someone's dirty little secret (don't do it). Want better sex and smoochin'? Use your lips…to communicate your needs! Here's a breakdown. The complicated realm of who pays for a first date. A comprehensive game plan for dealing with heartache. When your partner wants to hide your relationship from the world. And, who pays for dates in queer relationships.
What to do if you fall in love after doing the deed and if your friend is dating a mooch. Is it cheating? And where can a bi lady in an open relationship find dates. A 60-year-old man wants me to tell him how to find two bisexual women to form a triad with him. Lots of women can't come from intercourse. These modified positions might help. Plus, it involves a clitoris story about the great-grandniece of Napoleon Bonaparte.
And, how to have the best time at a sex party (and a regular ol' party too), even if you're socially awkward or a total newbie. Rethinking the "one who got away." How to ask out a friend. What do you call someone you're kinda dating? Letting go of break-up guilt. Never look a gift-blow-job in the mouth. On deleting exes' Facebook photos. All the questions you should ask yourself if you're planning on having a threesome. Does this guy even like women? Butt stuff. But also, life stuff.
Could the premise of so many porn films be wrong? Don't bang your sister's boyfriend. "I caught my boyfriend on Tinder. Now what?" How to recover from rejection. How to get out of your head during head. How to approach women on public transit. Does living with one's parents make you a loser? Sexless at three months. The cutest question from a 14 year old girl.
How to stop obsessing about your ex. Men are more likely to snoop than women. My adorable aunt submitted this question! Can I be friends with my baby daddy? How to cultivate self-worth and how that's different than confidence. And now we come to the "fuck the pain away" stage of grief. This advice MAY include a sexual reference to s'mores. How can I be sure a sex toy will work for me? Probably the most overlooked element of compatibility. And, finally, tell me it'll be OK.
Afterellen (RIP!)
I did my first (and last) "live" Hook Up column. "I FEEL NEGLECTED!" How much does age difference matter in relationships? And what does "independence" mean? Can you be in love with someone you've never seen? How to silence your inner asshole. When one of you wants monogamy and the other doesn't. The eternal question: Is this just a hook up? Is she leading me on?
What to say to people on Tinder. "I might be bi: How the hell do I meet women?" Am I a homewrecker? Don't date your coworker, probably. Girl crushin' and crushing girls. 7 easy, effective ways to boost confidence. I made this lengthy guide to how to flirt that very few people read. The short answer is yes. The longer answer is yes. What to text when you first get a girl's number.  
PHEW. HAPPY 2017, Y'ALL!
Wishing you a creative, inspiring year.